This year's KUMBIRA will adopt the theme " TUBONG MINDANAW" making known local cuisine and products of the different regions of Mindanao (Regions: IX, X, XI, XII, XIII, and BARMM), as well as promoting ingredients indigenous to this part of the Philippines.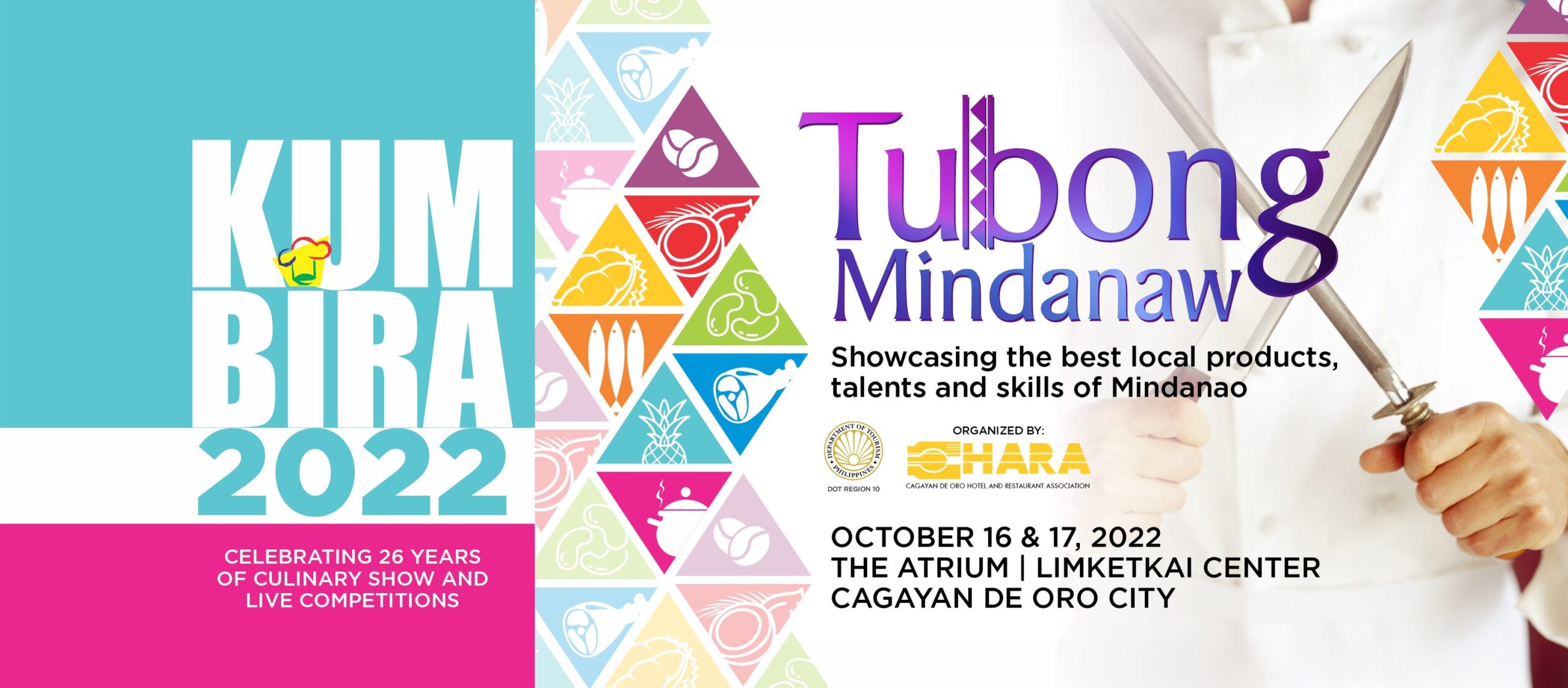 The event will take place on October 15-17, 2022 and the Limketkai Mall Atrium and admission is FREE.
COHARA, through its annual culinary show and competition, aims to accomplish the following:
Showcase and promote flavors and regional recipes of Mindanao cuisine
Appreciation and application of indigenous ingredients in local recipes
Hone culinary skills and apply new techniques and technologies in developing local cuisine
Promote skills certification to professionalize the hospitality industry
26th KUMBIRA 2022 will feature:
KUMBIRA Masters –  competitions in culinary, cake, bar, and barista, with elimination rounds to win as KUMBIRA MASTER.
MASTER CLASSES – As KUMBIRA is a platform for learning, COHARA has partnered with renowned chefs and culinary masters in developing topics for lecture-demonstration series on culinary arts. These lectures will be done on a separate date and venue to accommodate a bigger audience and better appreciation.
FOOD AVENUE – COHARA Member Establishment will showcase and sell their specialty dish during the 2-day main event.
LOCAL PRODUCTS ON DISPLAY – Presenting the Colors of Mindanao products from the 6 Regions of Mindanao (Regions IX, X, XI, XII, XIII, and the BARMM
Highlights for PRE-EVENT:
Kumbira Master Class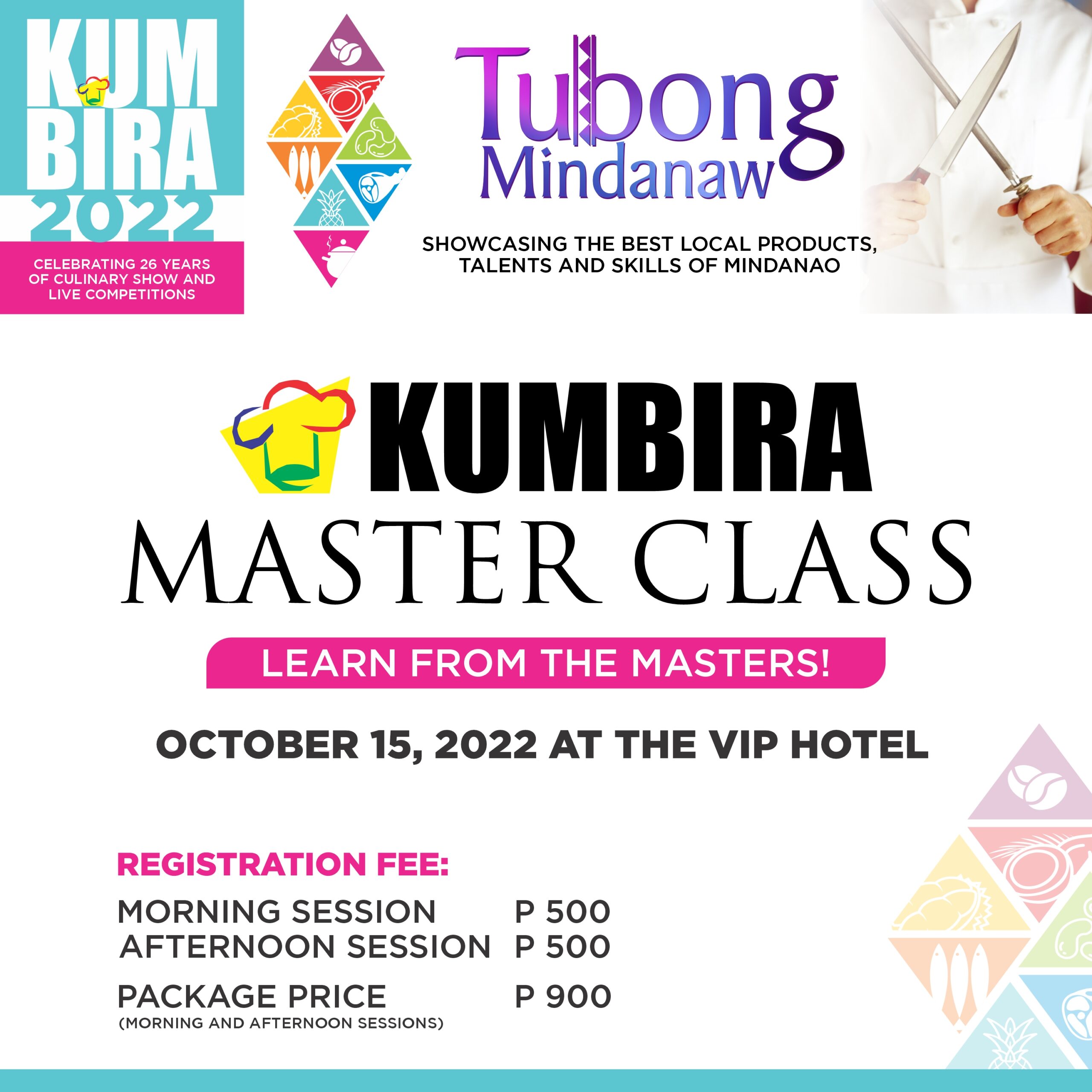 DATE: OCTOBER 15, 2022
VENUE: THE VIP HOTEL
TIME: MORNING SESSION – 8:30 AM – 11:30 AM/ AFTERNOON SESSION – 1:00 PM
REGISTRATION FEE:
Morning Session: P500
Afternoon Session: P500
Package Price (Morning and Afternoon Sessions): P900
TOPICS:
HOW TO BE A CHEF-PRENEUR by Chef Norbert Gandler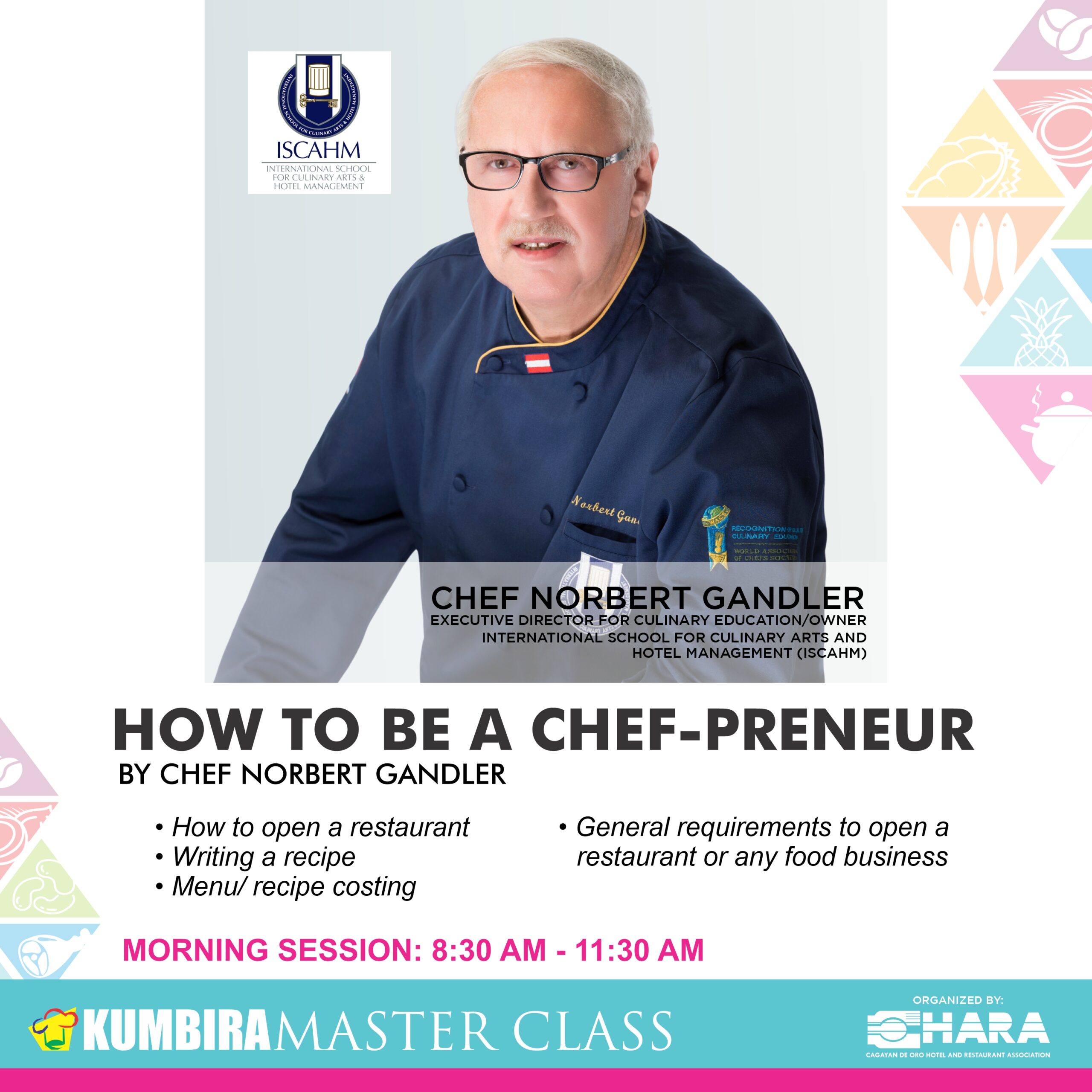 How to open a restaurant
Writing a recipe
Menu/ recipe costing
General requirements to open a restaurant or any food business
BOOSTING SALES THROUGH DIGITAL MARKETING By Chef Laetitia Moreau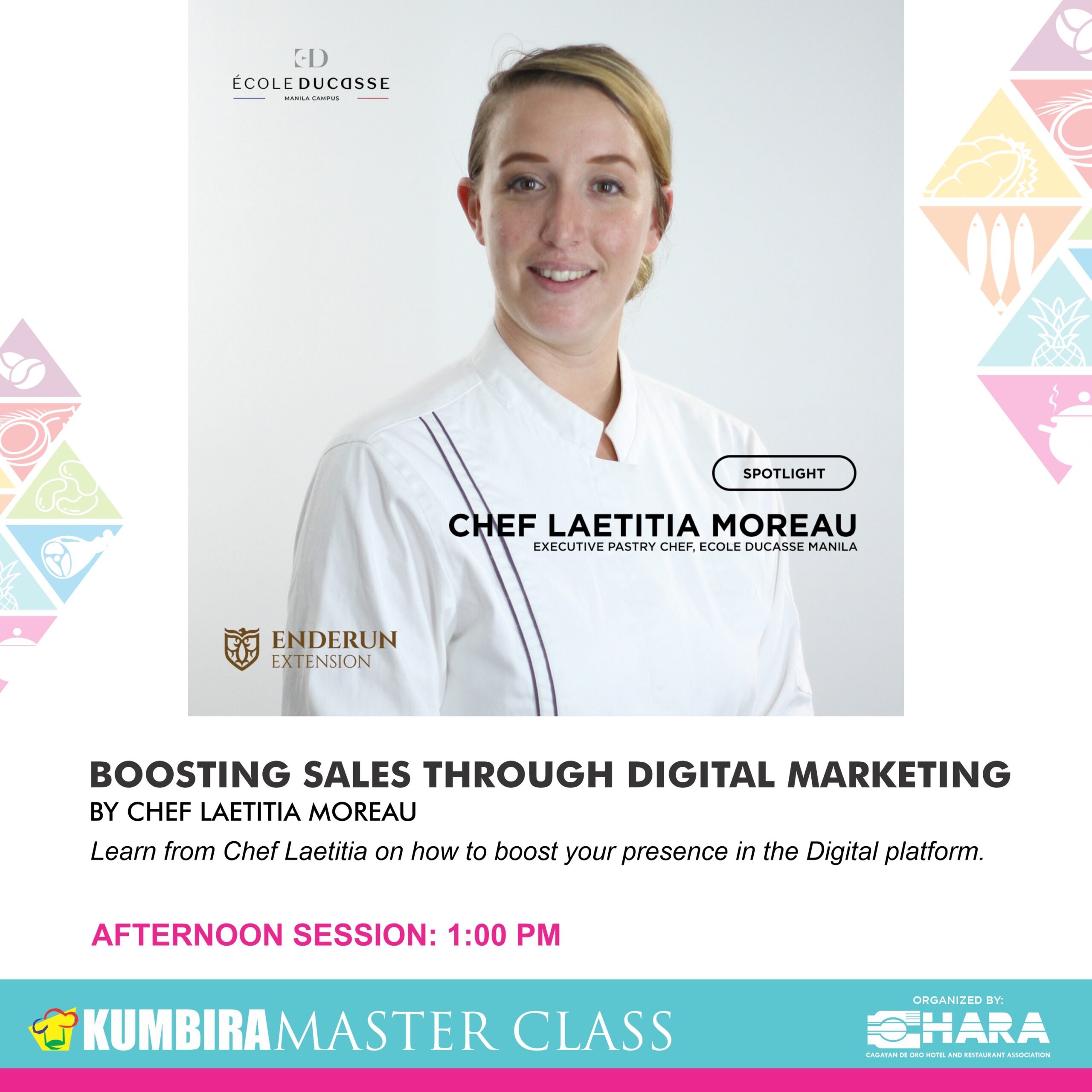 Learn from Chef Laetitia on how to boost your presence in the Digital platform.
MASTER CULINARY BASICS by Chef See Cheong Yan, Chef Norbert Gander and
Chef Laetitia Moreau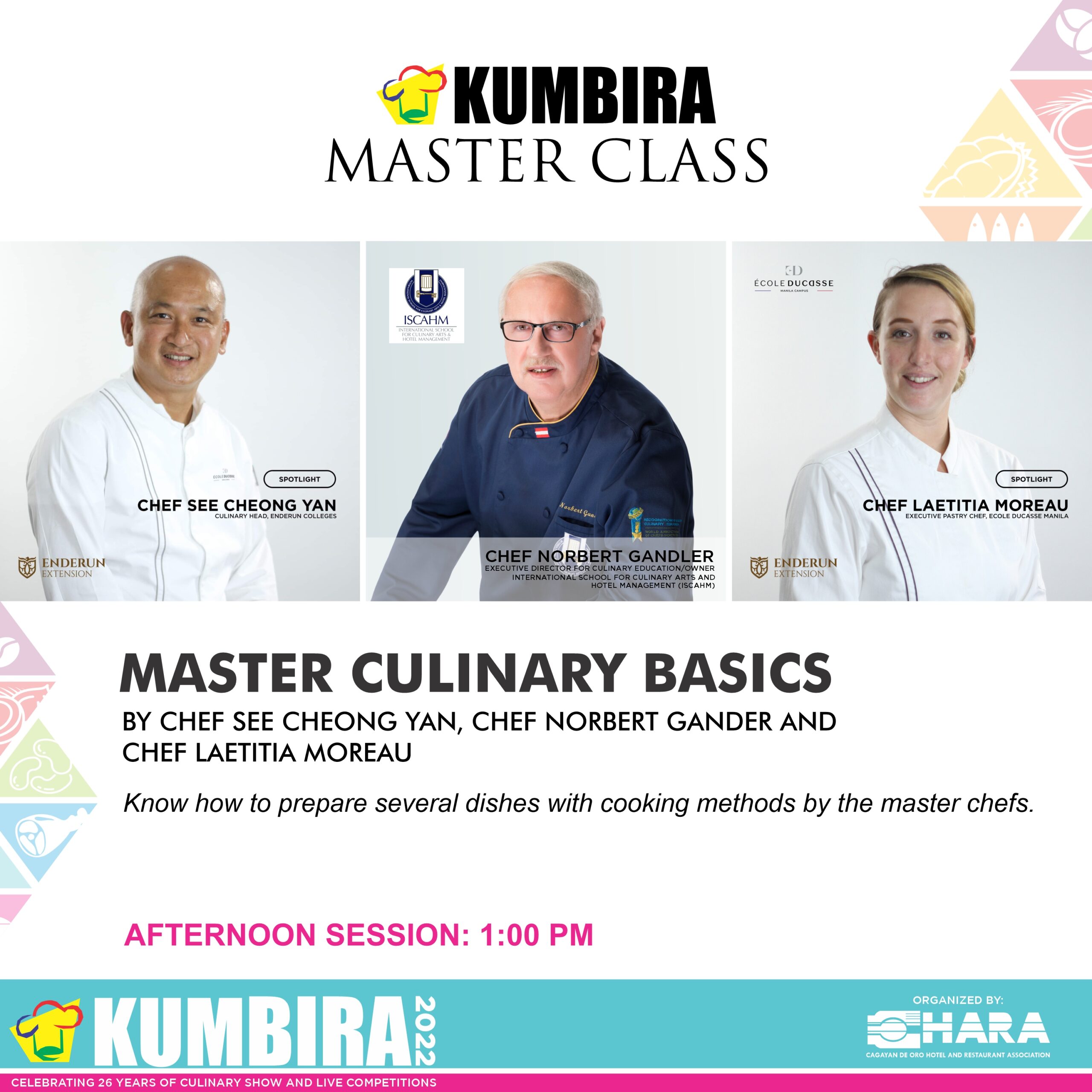 Know how to prepare several dishes with different cooking methods by the master chefs.
Kumbira List of Competitions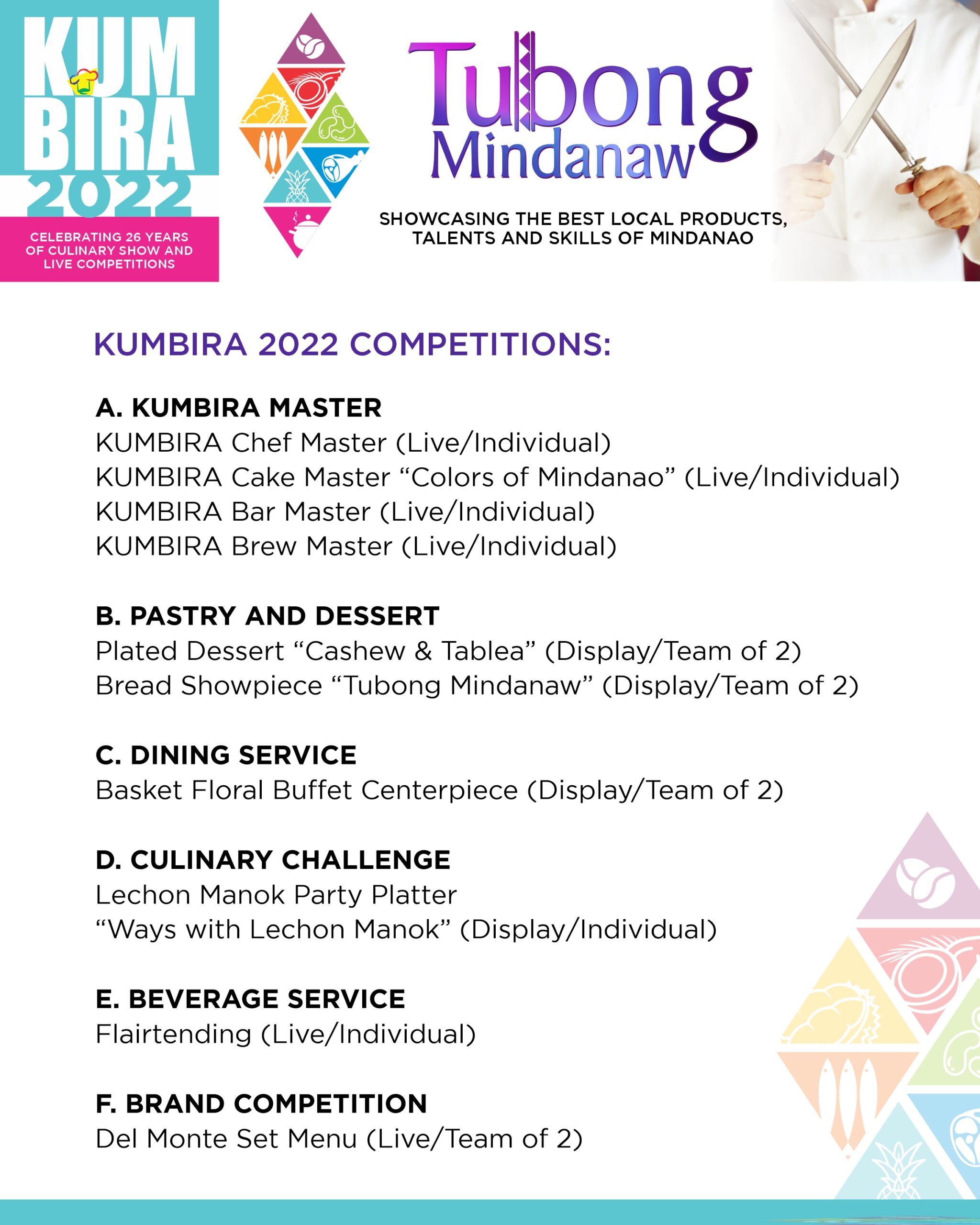 KUMBIRA MASTERS
KUMBIRA Chef Master – (Live/Individual)
KUMBIRA Cake Master – Theme "Colors of Mindanao" – (Live/Individual)
KUMBIRA Bar Master – (Live/Individual)
KUMBIRA Brew Master  – (Live/Individual)
Winners of the KUMBIRA Chef Master, Cake Master, Bar Master, and Brew Master will receive the following:
Champion P 10,000.00 cash + Plaque + Certificate
1st Runner up P   7,000.00 cash + Certificate
2nd Runner up P   5,000.00 cash + Certificate
Kumbira Masters TOP winners will also receive one (1) unit of 2-burner gas stove with an LPG tank from Solane
PASTRY AND DESSERT
Plated Dessert – "Cashew & Tablea" – (Display/Team of 2)
Bread Showpiece – "Tubong Mindanaw" – (Display/Team of 2)
DINING SERVICE
Basket Floral Buffet Centerpiece – (Display/Team of 2)
CULINARY CHALLENGE
Lechon Manok Party Platter
"Ways with Lechon Manok" – (Display /Individual)
BEVERAGE SERVCE
Flairtending – (Live/Individual)
BRAND COMPETITION
Del Monte Set Menu – (Live/Team of 2)
Winners of the Del Monte Set Menu will receive the following:
1st Runner up P 5,000 + Certificate
2nd Runner up P 3,000 + Certificate
3rd Runner up P 2,000 + Certificate
Kumbira Registration – https://forms.gle/e9gmVkHEQZjU4sXn9
COMPETITION REGISTRATION FEES           
KUMBIRA CHEF MASTER – P800
KUMBIRA CAKE MASTER – P800
KUMBIRA BAR MASTER – P800
KUMBIRA BREW MASTER – P800
FLAIRTENDING – P800
BASKET FLORAL CENTERPIECE – P800         
PASTRY & DESSERT – P800
BREAD SHOWPIECE – P800
DEL MONTE SET-MENU – P800
Kumbira 2022 Official Video
Official Board of Judges (to be announced soon on the Kumbira Facebook Page)
List of Sponsors (to be announced soon on the Kumbira Facebook Page)
List of Exhibitors (to be announced soon on the Kumbira Facebook Page)
Contact Information
For more information, you may reach them at the following information:
Facebook Page: Kumbira – A Culinary Show and Live Competitions by Cohara
Contact Number: 0917 670 0517
Email Address: [email protected]