Love is in the air this February and am sure you're excited about Valentine's Day but don't know exactly where to go on a date, what the best offerings are, where to check in, where to buy the best V-day gifts or whatever.
This list will help you explore your options whether your purpose is to dine, buy gifts, have a staycation or win V-day freebies or dates. To put an end to all confusion, check out our compilation of Valentine's Day Promos, Contests and Offerings below:
LIMKETKAI LUXE HOTEL
If you want to surprise your loved one this Valentine's Day book at Limketkai Luxe Hotel for a honeymoon set-up! Get serenaded by the Lourdes College Strings at their special dinner buffet!! HURRY and Contact them at 09173124563-64 for reservations.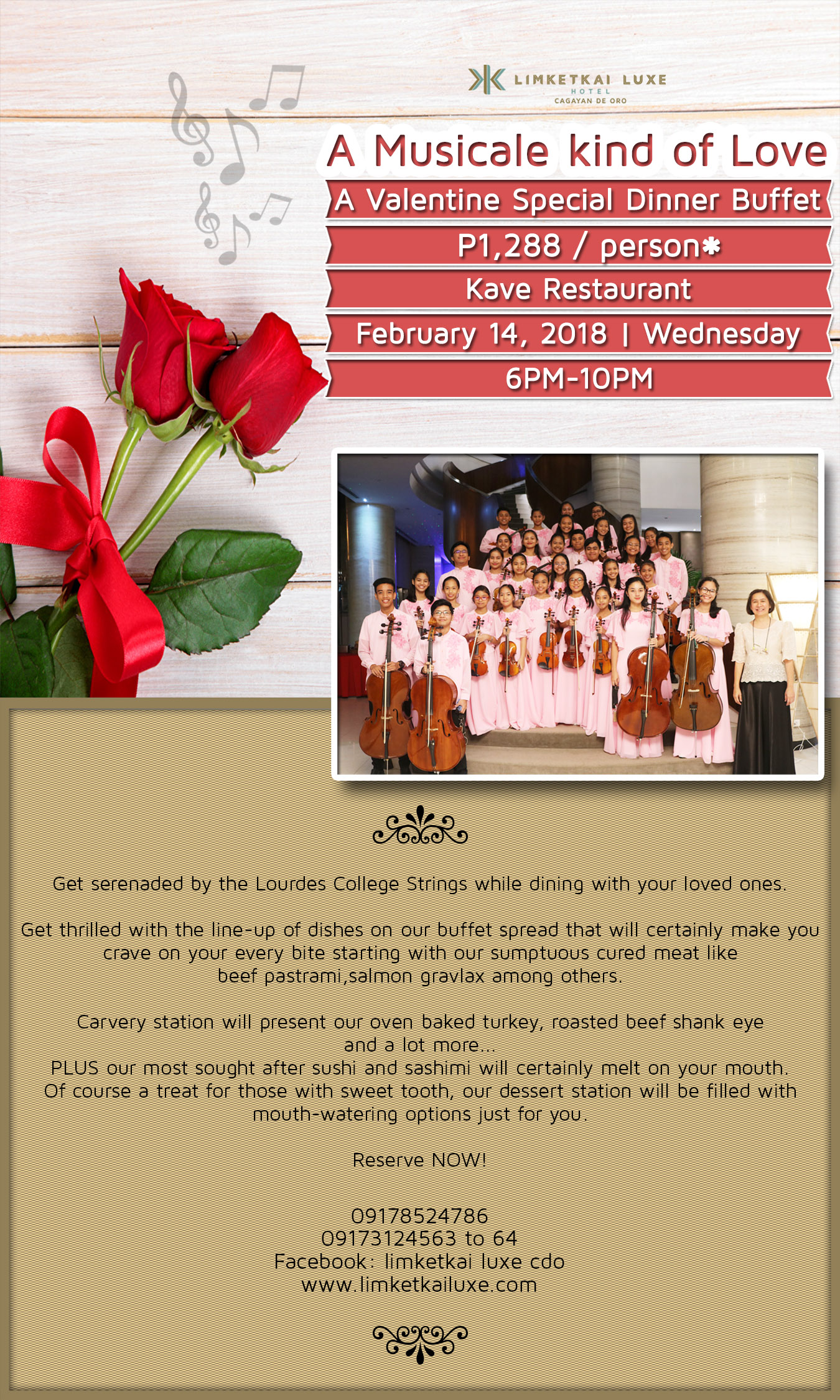 SEDA CENTRIO HOTEL
Here are Seda Centrio Hotel's offerings this love month of February:
Eat Your Heart Out: Romance on Valentine's
On February 14, from 6pm to 10pm, Seda invites you to a Valentine dinner buffet with your loved one. For only Php770 (nett per person), feast on Misto's most sumptuous culinary creations. It's going to be an evening of love treats guaranteed to bring out the best, sweetest memories while igniting good romance.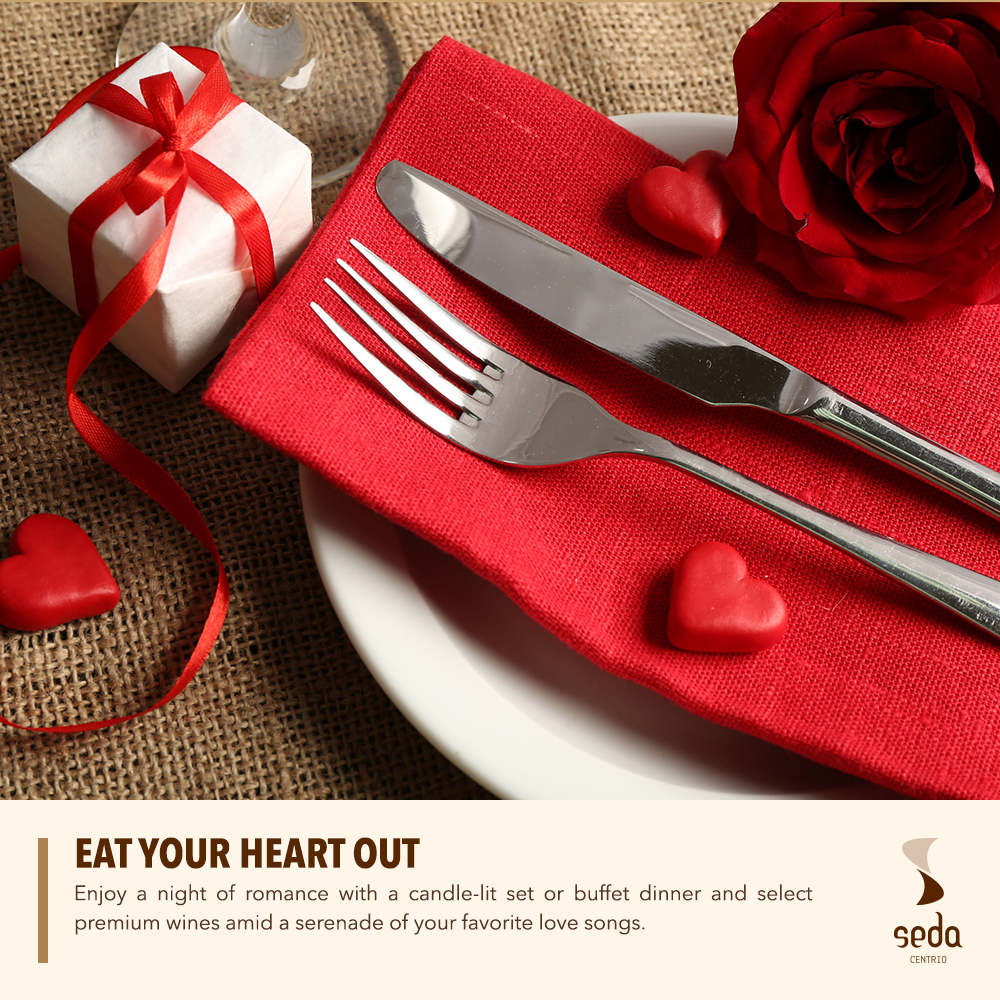 The Valentine buffet menu consists of appetizers like Tomato & Basil Bruschetta, Mushroom Bruschetta, and cold cuts & cheese platter; French onion soup; mixed greens and your choice of salad dressing; bread; the main entrée – Grilled Tuna with Limoncello Sauce, Chicken Pastel, Ciambotta Vegetable & Pork Stew, Beef Stroganoff with Fettucine Noodles, and Parsley Rice; Salt & Pepper Spareribs; and desserts for the sweet tooth. And while you and your date are enjoying each other's company – and the food – feel extra special as guest performers serenade you with your favorite love songs.
If a dinner buffet is not your cup of tea, you can choose to surprise your date with a 5-course dinner. For Php2,200 nett per couple, bask in the sweet romance of a candlelit dinner by the Misto Al Fresco area. This Valentine dinner consists of specially prepared appetizers, soup, and salad. Main entrée includes Salmon En Croute (rich salmon fillet wrapped in puff pastry) or Stuffed Pesto Chicken (French cut breast of chicken with sliced ham in a pesto vinaigrette), and Meat & Spincah Ravioli (a culinary feast of ground beef, spinach, spices, and Parmesan cheese). Cap off your candlelit dinner with a dessert treat.
Love Lockdown Valentine's Promo
After a romantic dinner, you and your loved one can extend Valentine's by spending the night in one of Seda's cozy, comfortable, and well-furnished rooms. The Love Lockdown Valentine's Day promo will run from February 13 to 18, 2018.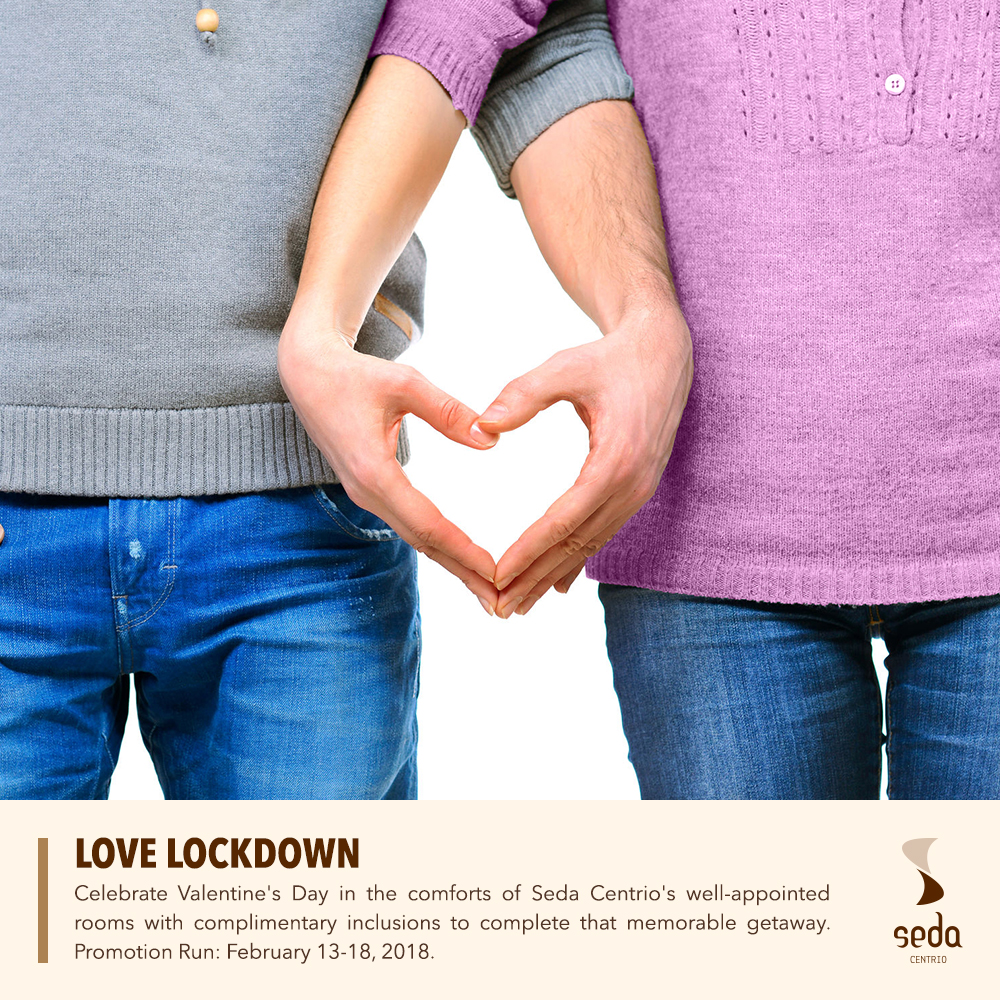 Enjoy these special rates when you decide to experience Seda's Valentine love lockdown:
Deluxe Room – Php5,000 nett
Club Room – Php6,000 nett
Premier Room – Php7,000 nett
Book a Premier Room and enjoy a more spacious, well-furnished, and comfortable room. In addition, you will also have exclusive access to The Club Room. The Club Room is a VIP lounge perfect for enjoying a quiet meal (breakfast) or coffee, tea, and cocktails.
Flavors of Fortune: A Special Chinese New Year Dinner Buffet
On Friday, February 16, welcome the Year of the Dog at Seda with the Flavors of Fortune. This special Chinese New Year dinner buffet is guaranteed to get you in a festive mood. The buffet will be from 6pm to 10pm at Misto. This Chinese New Year treat is worth Php888 nett per person; perfect for a sumptuous celebration for you and your loved one.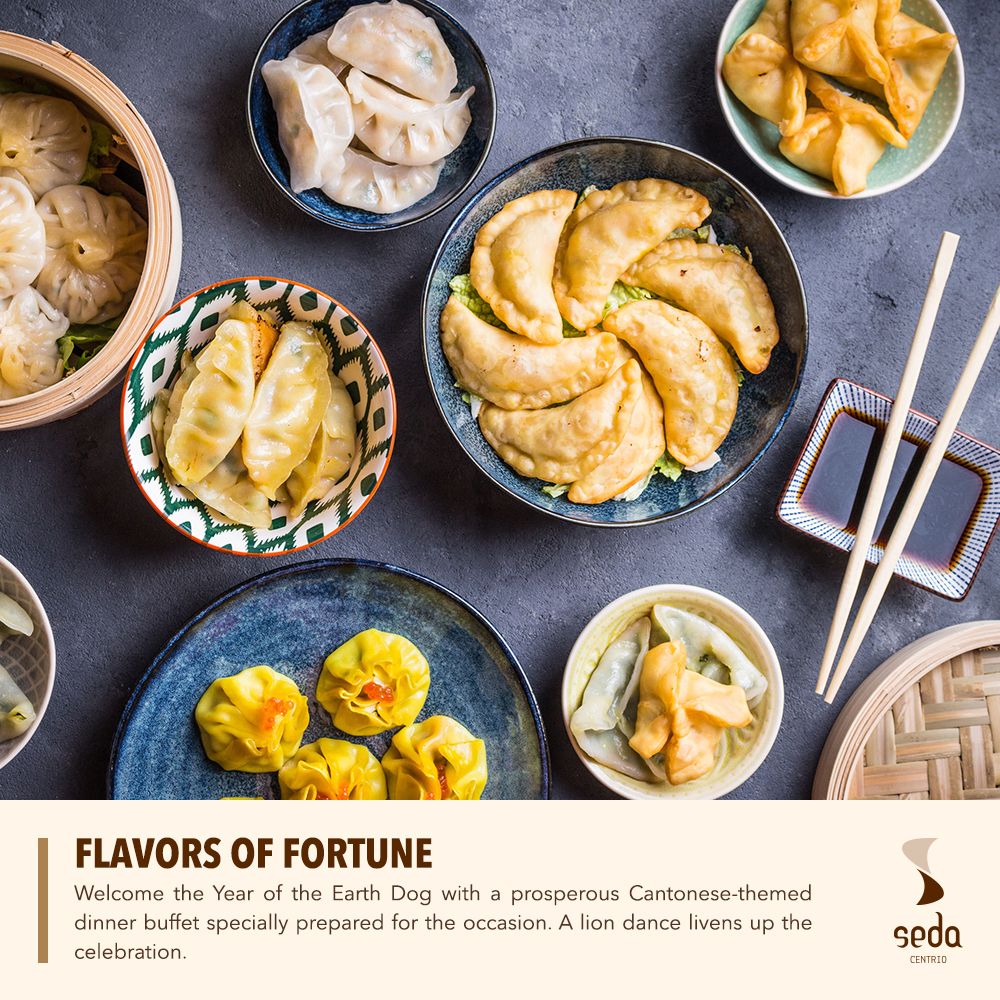 If you go there early, you can witness the lion dance at 7pm at the 4th floor lobby. It's one of the best ways to celebrate the start of the Year of the Dog. For more information about Seda's February romance and fortune treats, call 088-323 8888 or 0917-577 5910. You may also send an email to cdo@sedahotels.com.
APPLE TREE RESORT AND HOTEL
If your idea of romance is swimming with your loved one at one of the most prestigious hotel and resorts in the city, then this fantastic deal from Apple Tree is for you! As they celebrate their 10th Year in the Hotel Industry, they are offering P99 only per head Pool access! See poster below for more details!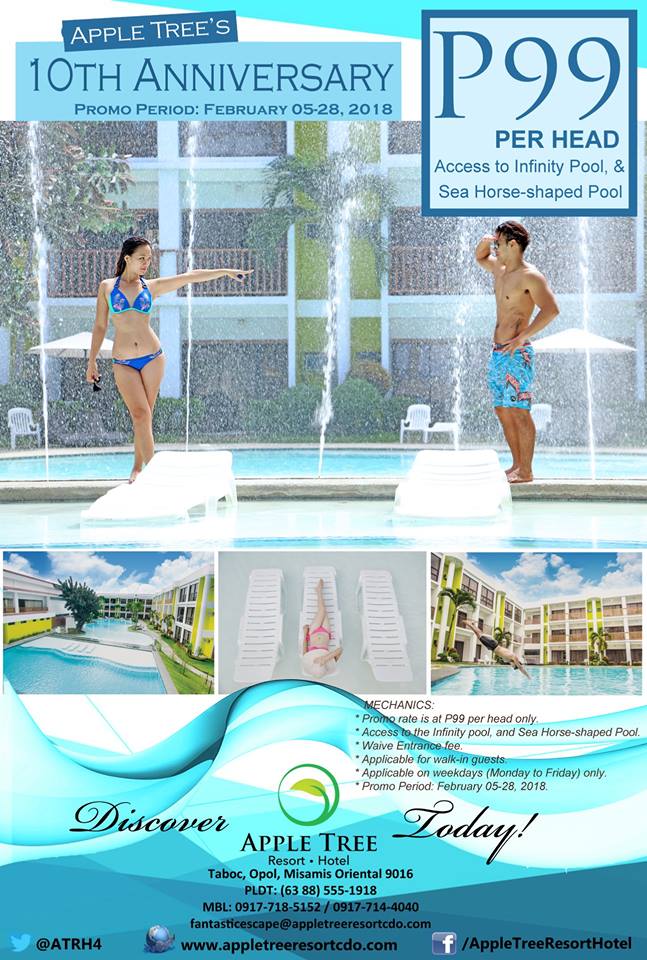 Apple Tree also has a Valentine Buffet Dinner "Romance by the Bay" at only P499 per person.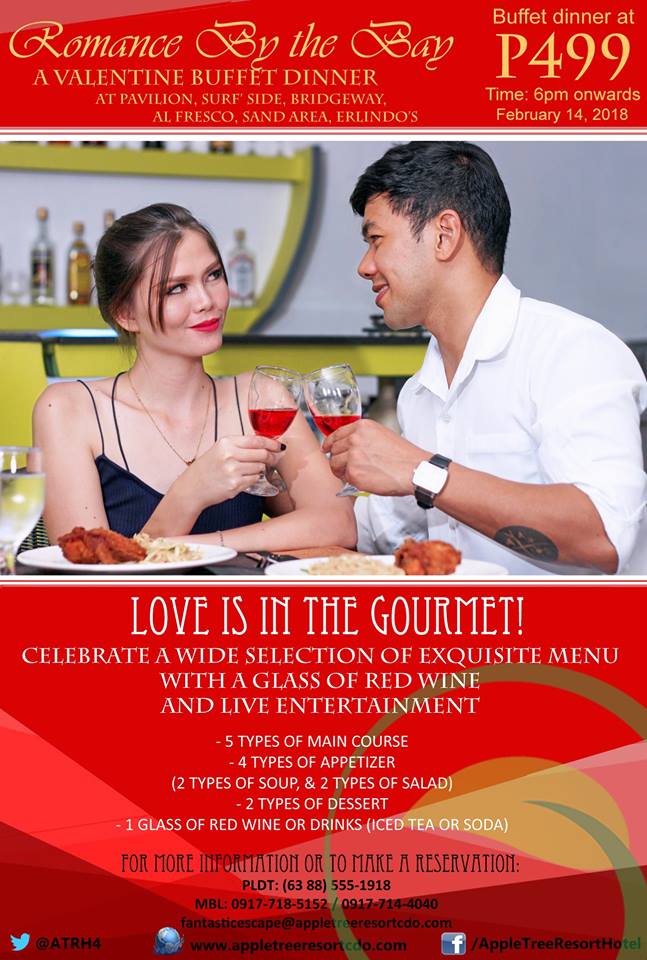 FLAMENCO CAFE AND BAR
Celebrate Valentine's Day at Flamenco Cafe and Bar with their sumptuous buffet this FEBRUARY 14 at 6:30 pm . Limited seats only. Contact them for reservations.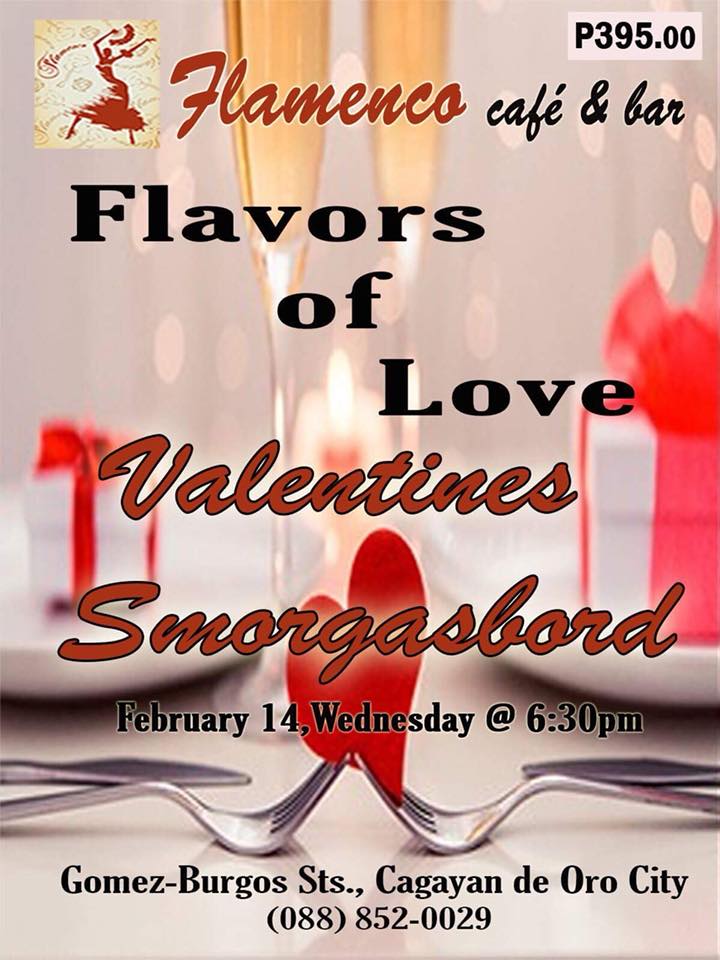 SWEETCRAVINGS BY MAGS:
Looking for the perfect Valentine's Day gift? Give a Valentine's present that will win her heart. Presenting: SweetCravings by Mags "Blueberry Swirl Cheesecake! P395 only! Order now and surprise your sweetie with this lovely gift! Visit the #SweetCravingsbyMags Shop at the 4th Level of SM Cdo Downtown Premier to buy one or contact 0917-327-9000 for orders.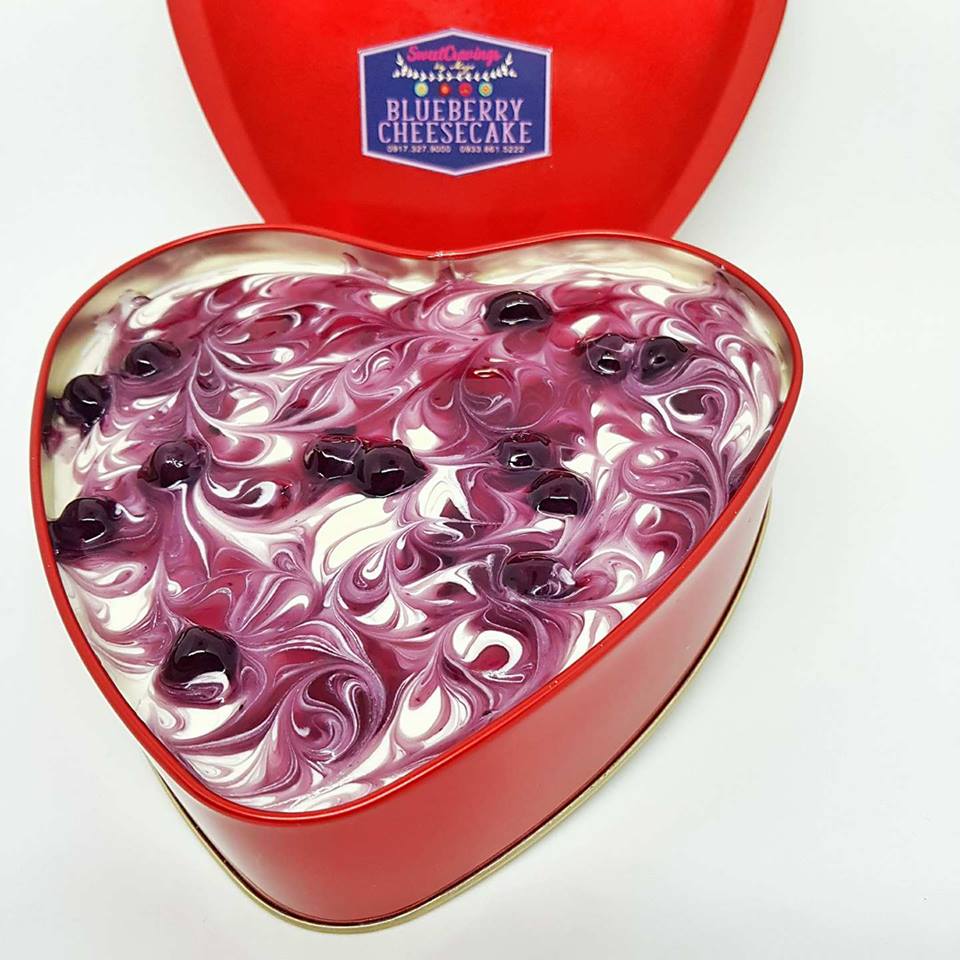 They also have other heart-shaped Blueberry and Strawberry Cheesecakes available at the shop like this one below.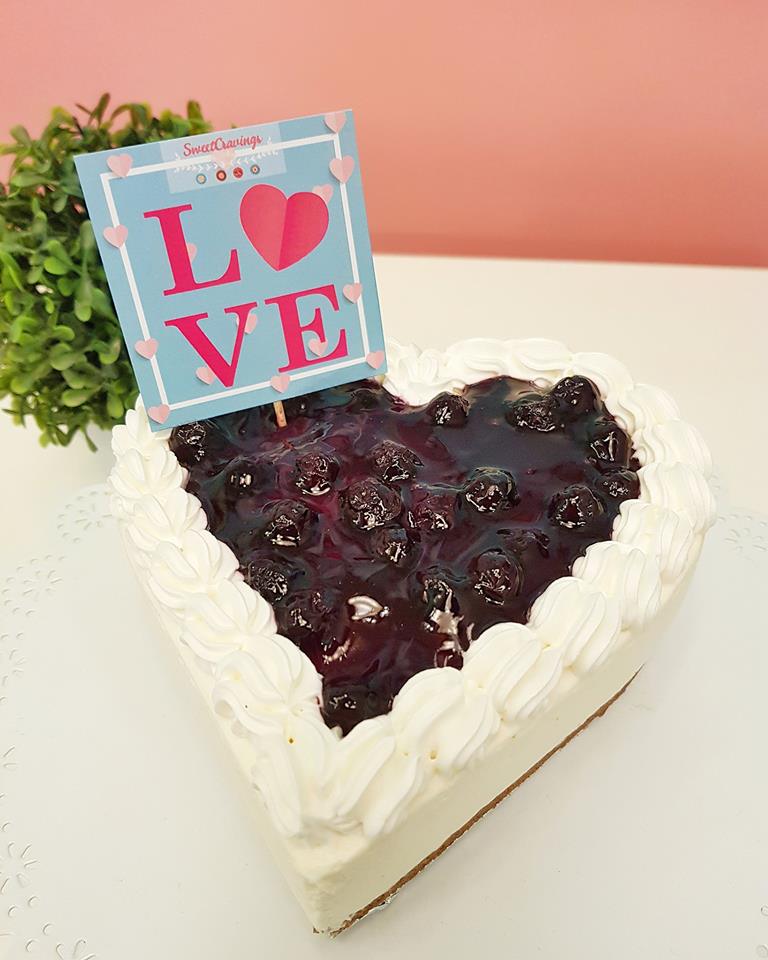 ANYTIME FITNESS
The couple that works out together, stays together. This love month, workout with your loved one and get 50% joining fees plus a free buddy session at Anytime Fitness, SM Cdo Downtown Premier, Cagayan de Oro's premier international 24/7 gym.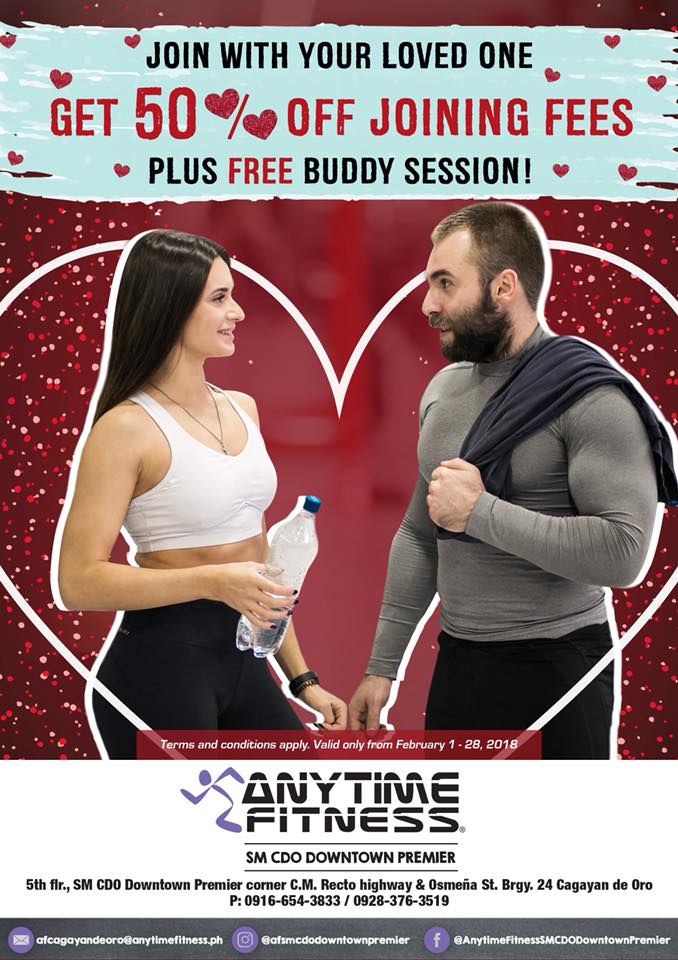 Got a burning inquiry? Reach them through the following:
Email: AFCagayanDeOro@anytimefitness.ph
(0888) 859-1493
Globe: 09166543833
Smart: 09283763519
BEAN VOYAGE COFFEE ROASTERS
Valentine's Day is approaching! Know what to give to your loved ones? These Floral Cupcakes from Bean Voyage Coffee Roasters will surely brighten up their day! Cut off of orders until Feb 11 only.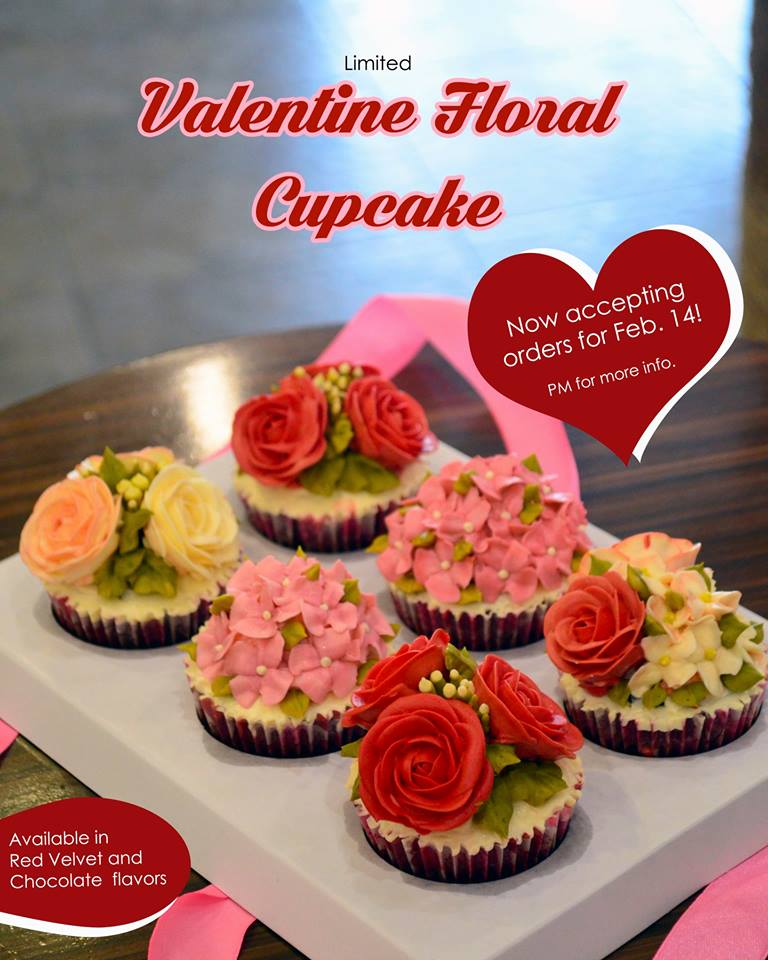 BREAD TIME STORIES CAFE
Here's a sweet pastry and drink combo from Bread Time Stories Cafe that will surely melt the heart of your sweetie. Join the raffle to win that sweet treat this Valentine's Day!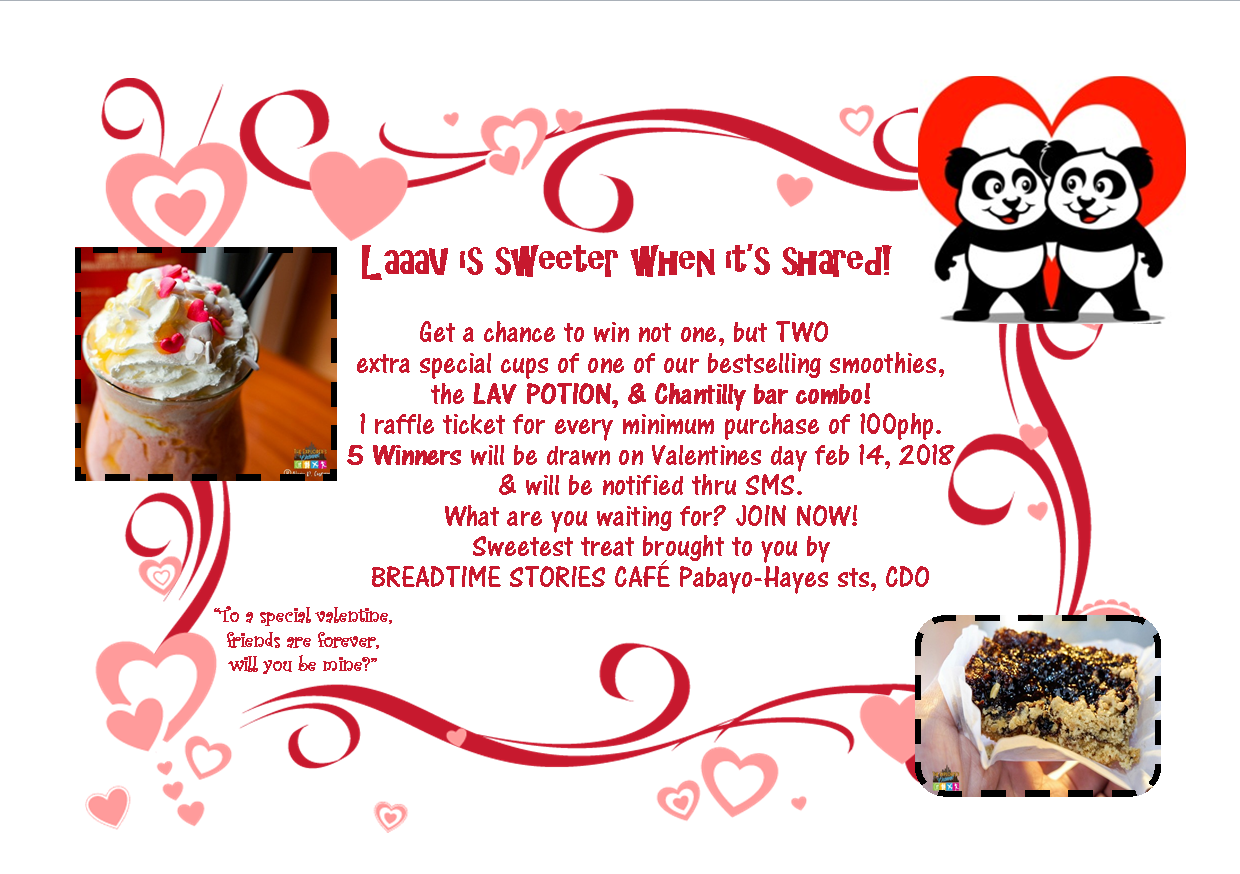 BUCKET O SHRIMPS:
Love means, eating lotsa crabs together! Have a date whether it's a late lunch or Early Dinner at Bucket O' Shrimps Cagayan Town Center and enjoy their Crab Festival featuring "Crabs All You Can", Unli Rice and Unli Drinks For P499 only between 2pm-5pm!!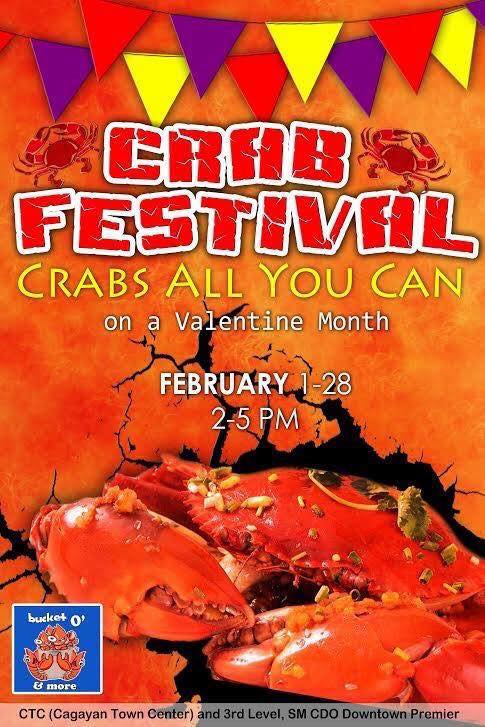 BUEN PROVECHO
"Love means keeping each other healthy."
The "Love Month" officially starts February 1st! Jumpstart it by giving your HEART a special and HEALTHY treat. Go to Buen Provecho at Lane 101 Uptown for lunch at 11:30am – 2:00pm and pamper yourself to another health-boosting vegetarian buffet of flavourful Filipino dishes, native desserts, tropical fruits, and refreshing red lemonade – all for 199 pesos only. For reservations, please call 0917-1374048.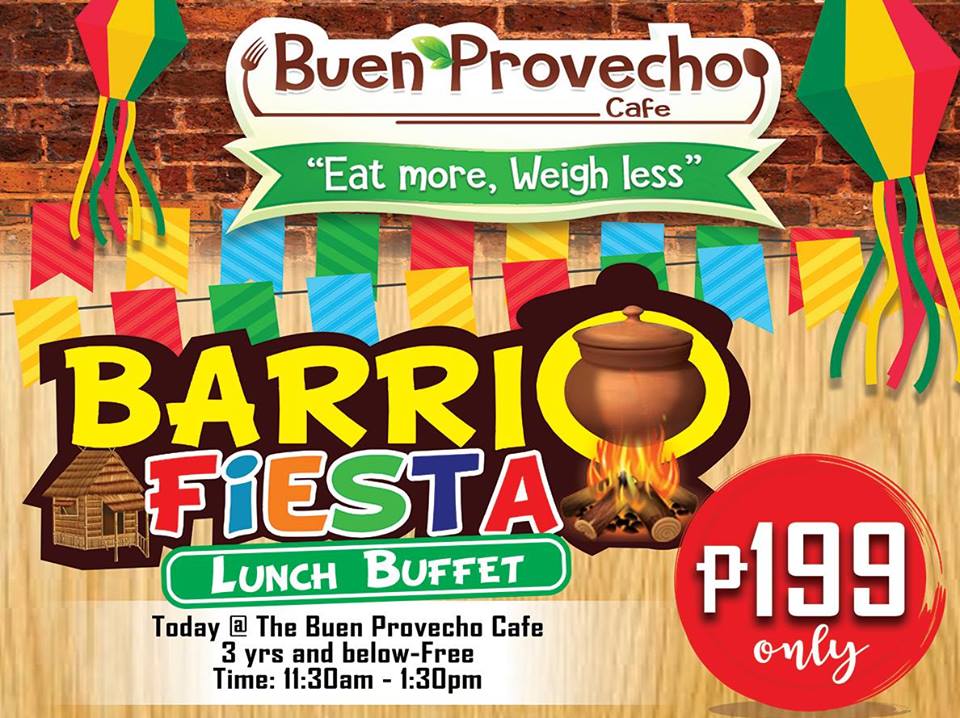 Featured Menu:
Vegetarian Kare-Kare with all-vegan bagoong
Vegetarian Bistek Tagalog (Beefsteak)
Lumpia (meaty and roasted)
Adobong Kangkong sprinkled with vegetarian Ham strips
Pancit with vegetarian chicken and crunchy veggies
Ginataang Langka drizzled with vegetarian Dilis
Lauyang Lutya
Green Salad Bar with Café-made vegetarian sauces
Tropical Fruits – Pineapple and watermelon
Native Desserts – Vegan Puto and coconut-drizzled kutchinta
Red Lemonade (mixture of fresh lemon juice, tanglad, & camote tops)
RESTAURANT DAMASO
"Love means, treating your sweetie to a fancy dinner."
Expect no less from Restaurant Damaso on their "Valentines Day Special Buffet".
Prices are:
Php 495 nett Adults
Php 240 nett 7 – 12 years old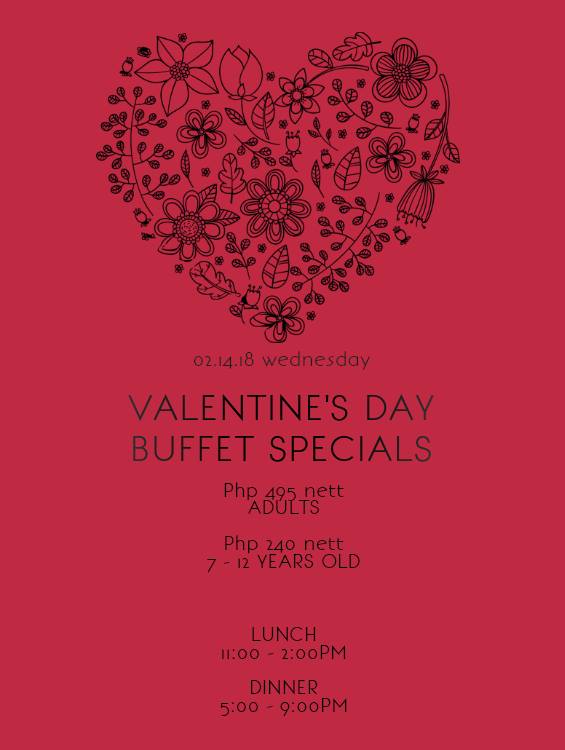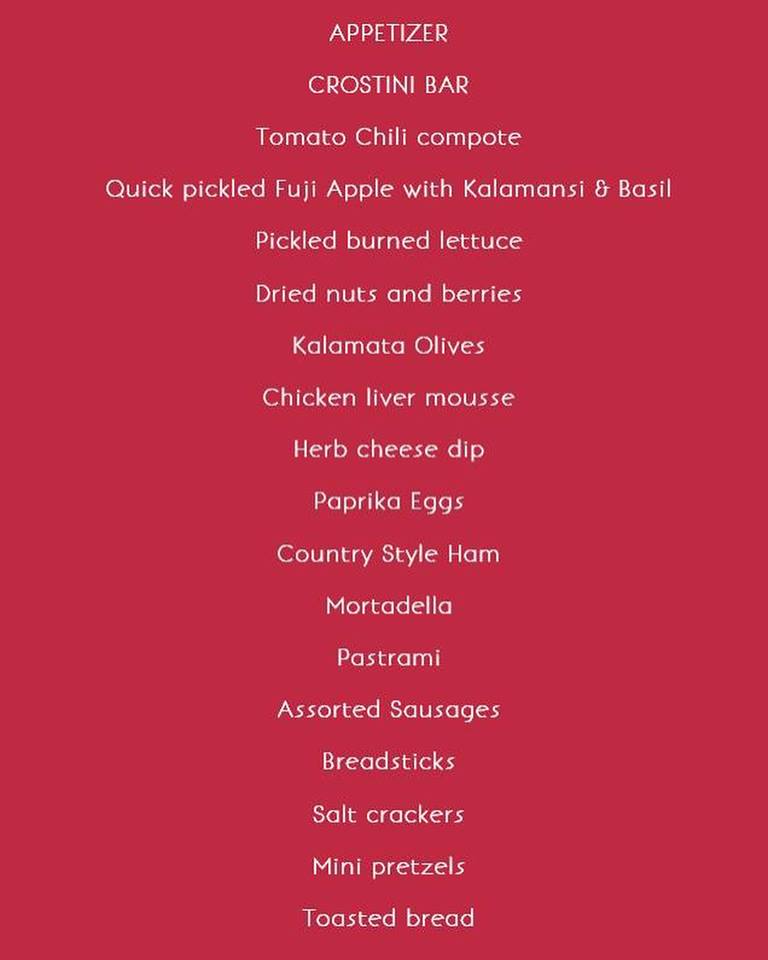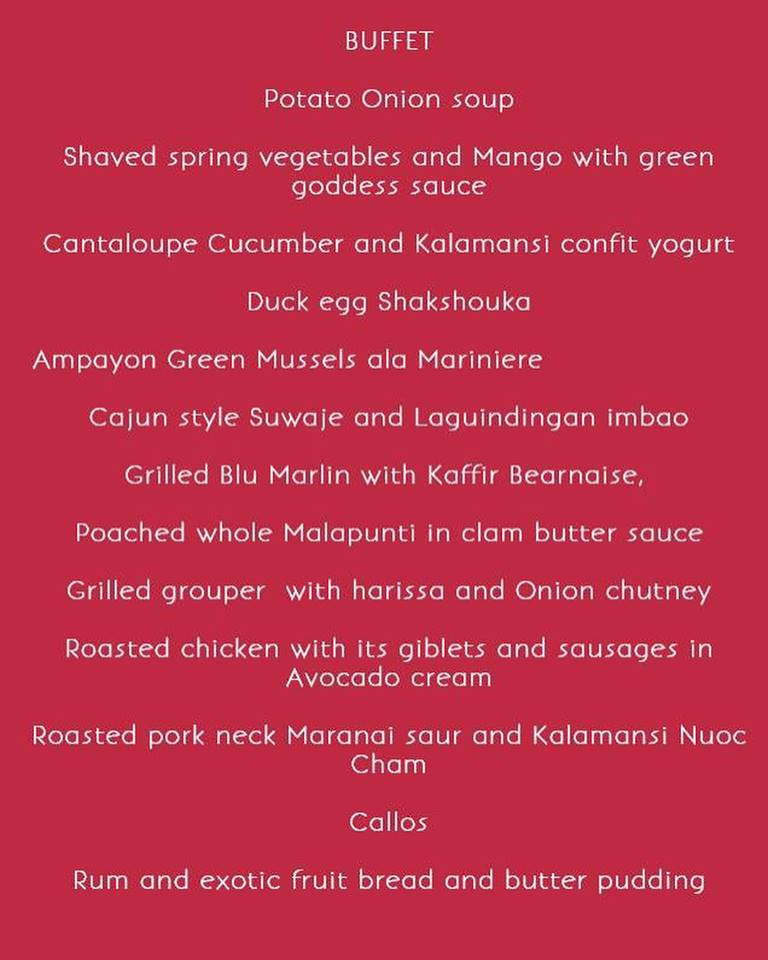 For inquries, call them at (088) 859 1257 or 09352261443. You can also visit them at the 5th floor of SM Cdo Downtown Premier.
CUCINA HIGALA:
Celebrate Valentine's day at Cucina Higala and enjoy an exclusive set menu highlighting Mindanao's heritage cuisine with your special someone!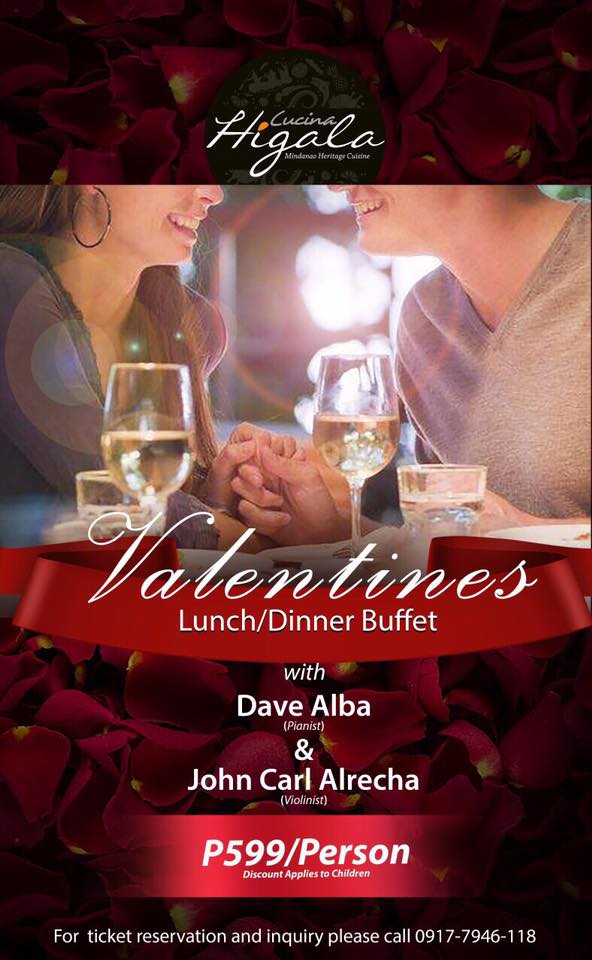 At only P599/ person, you can already enjoy the following dishes:
Kalabasa Soup
Fried Vermicelli Spring Roll
Fried Wanton with Sweet Chilli Sauce
Tokwa't Baboy
Baby Squid Salad
Chicken Barbecue Salad
Baked Cheesy Tanguige
Lemongrass Chicken
Pastel de Lengua
Pasta (Spaghetti / Pesto Cream)
Steamed Rice
Crispy Skin Lechon Belly
Red Velvet Bars
Squash Leche Flan
Mangga at Suman
Pichi-Pichi
Valentine Special Drinks
Now to help you set the perfect ambiance for an unforgettably romantic day,  they have a guest pianist and violinist Sir Dave Alba and Sir John Carl Alrecha. LIMITED tickets only. Message them on their Facebook Page for reservations.
GOLDILOCKS
It's the season of sharing love and sweetness! Make your Valentine's Day extra special with the LIMITED EDITION Heart-Shaped All About Chocolate Cake (P560) and Chocolate Lollipops!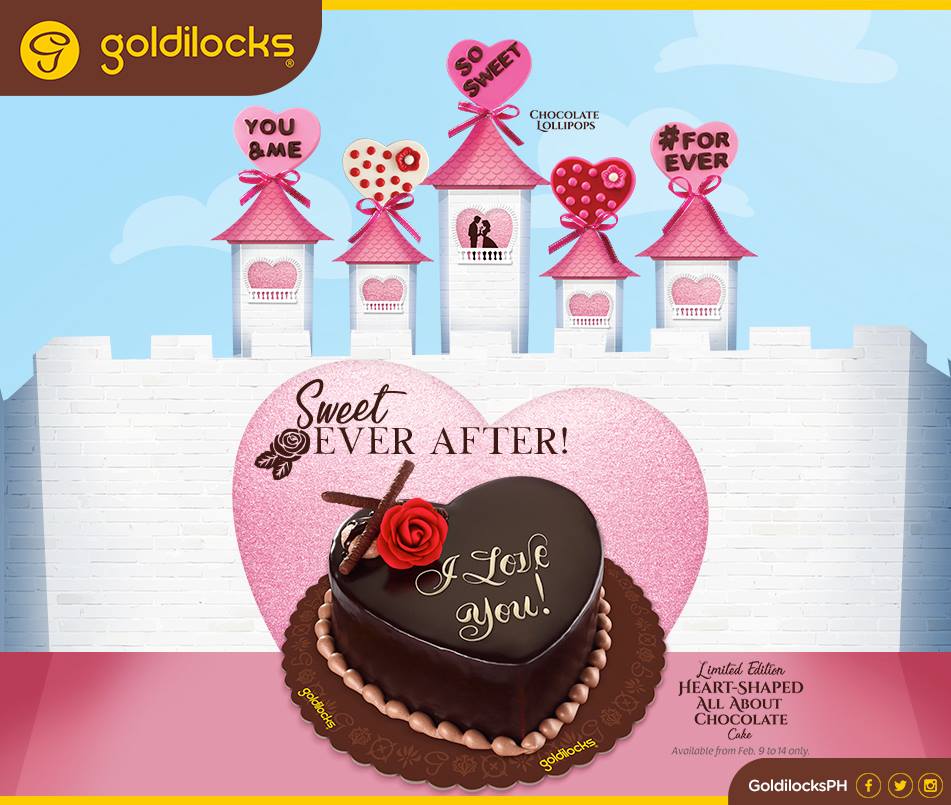 This Heart-Shaped All About Chocolate Cake is only available from February 9 – 14, 2018. It is available at all Goldilocks branches nationwide.
HONEY BEAR BAKERY
Express your feelings with tons of sweetness. Get your darling, Honey Bear Bakery's "Valentine's Cake" specially made this Month of Hearts. You'll also get FREE Pudding for every reservation of the Valentine's Cake. Visit them at SM City Uptown to avail of this special cake.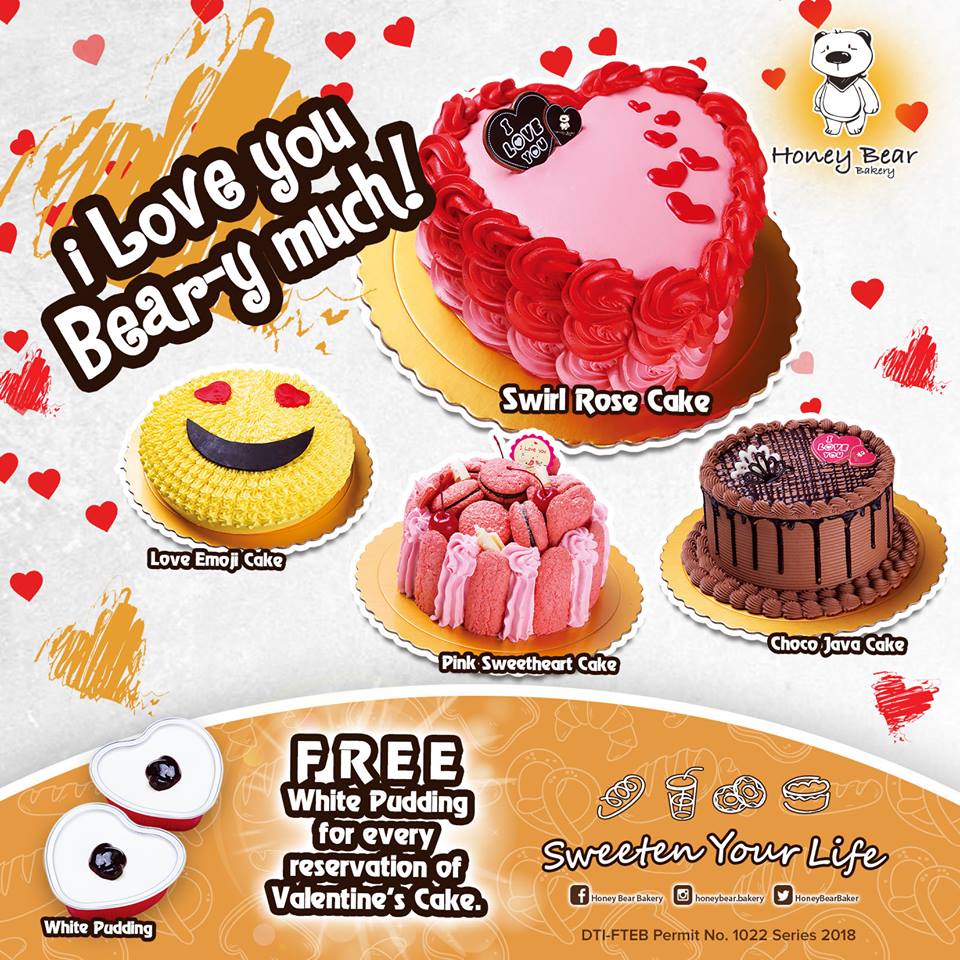 SEVEN SEAS WATERPARK:
Experience Seven Seas Waterpark like never before! Surprise your loved one to a romantic Valentine's evening by the Buccaneer Bay Wavepool with a sumptuous dinner buffet carefully curated by the Seven Seas Chefs and reminisce to a beautiful acoustic serenade of all your favorite love songs! Reserve your tables at 0917-677-7667.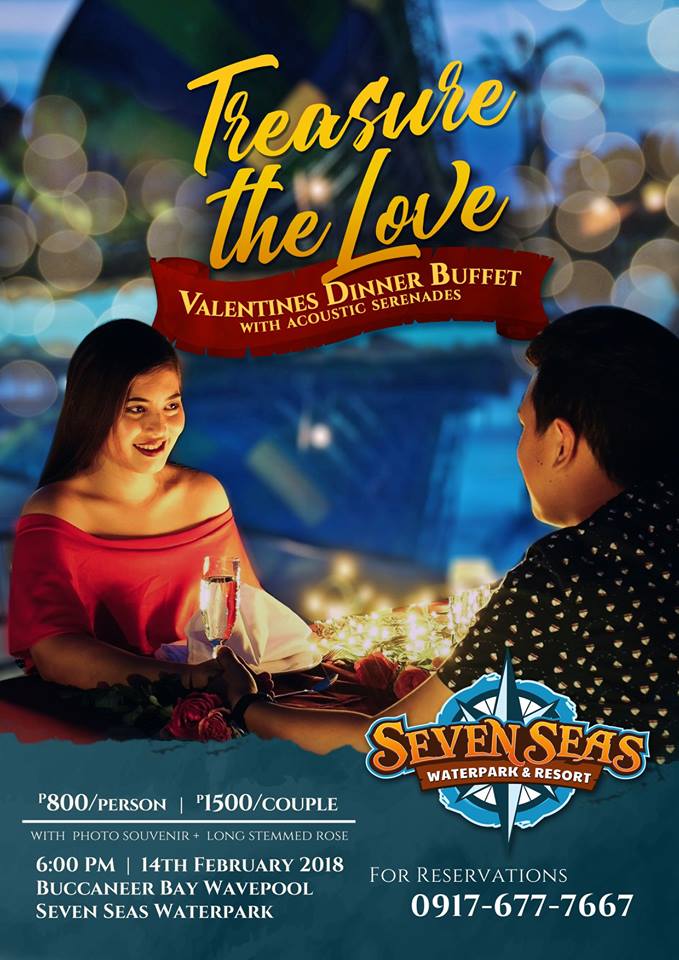 MISSY BONBON:
Celebrate LOVE with the Missy Bon Bon Mon Amour Valentine's Day Cake for only Php 695! This sweet treat is available from February 12-14. To pre-order, call 0917 706 2797 in Cagayan de Oro.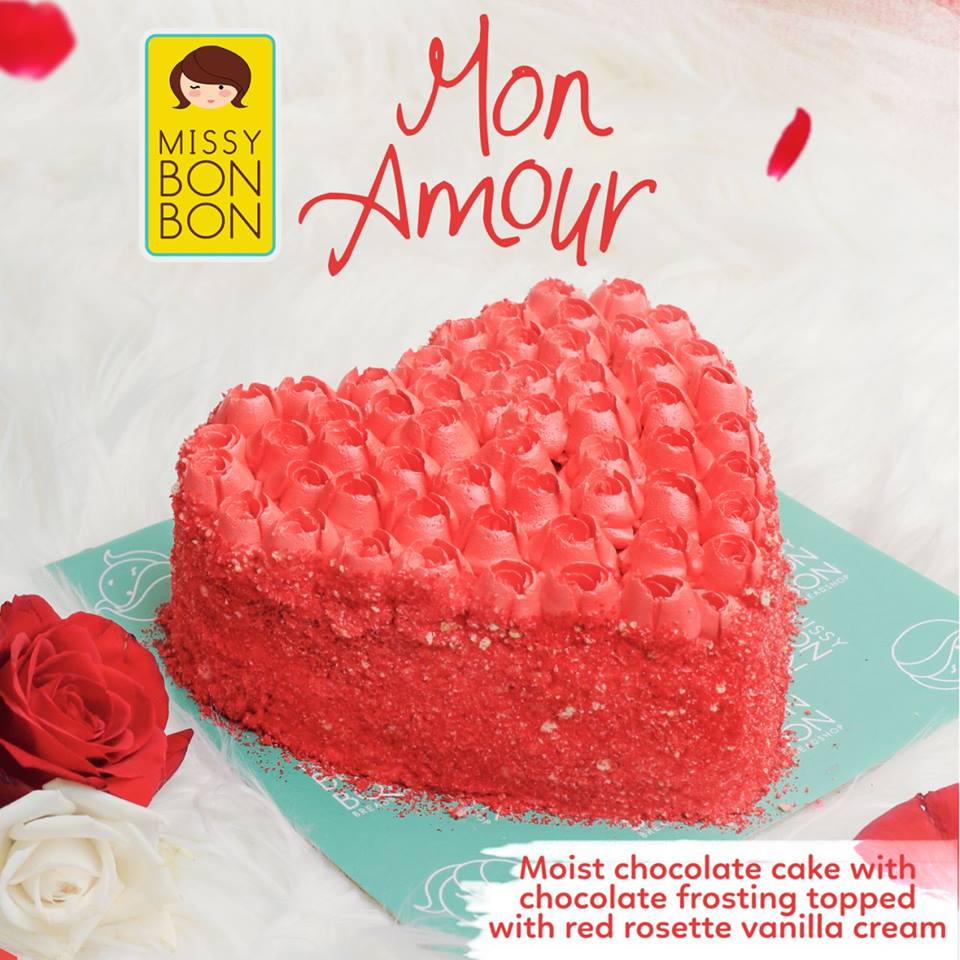 MYKARELLI'S GRILL
Win a FREE Valentine's Date by joining Mykarelli's Grill "The Story of Us" Facebook Contest! View original post on their Facebook Page, comment the story of how you met and win the prize!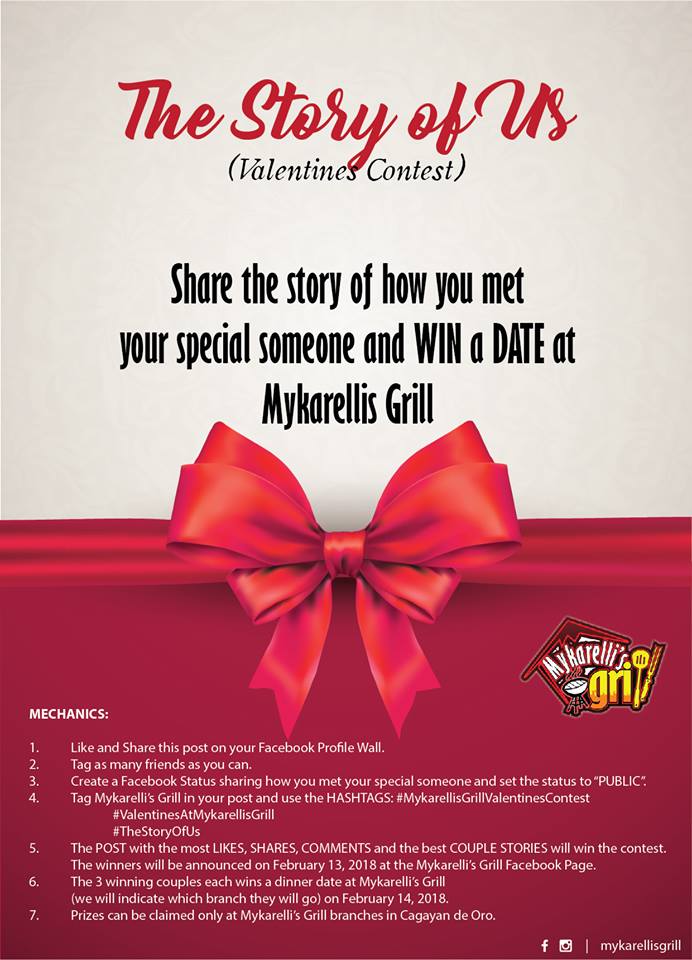 MECHANICS: The Story of Us (Valentine's Contest)
Share the story of how you met your special someone and Win a DATE at Mykarelli's Grill!
1.Like and Share the post on your Facebook Profile Wall.
2.Tag as many friends as you can.
3.Create a Facebook Status sharing how you met your special someone and set the status to "PUBLIC".
4.Tag Mykarelli's Grill in your post and use the HASHTAGS:
#MykarellisGrillValentinesContest
#ValentinesAtMykarellisGrill
#TheStoryOfUs
5.The POST with the most LIKES, SHARES, COMMENTS and the best COUPLE STORIES will win the contest. The winners will be announced on February 13, 2018 at the Mykarelli's Grill Facebook Page.
6.The 3 winning couples each wins a dinner date at Mykarelli's Grill (we will indicate which branch they will go) on February 14, 2018.
7.Prizes can be claimed only at Mykarelli's Grill branches in Cagayan de Oro. Lifestyle District
NAILANDIA
Nailandia SM CDO Premier is collaborating with Echo Store to give you an amazing and unforgettable Valentine's day experience.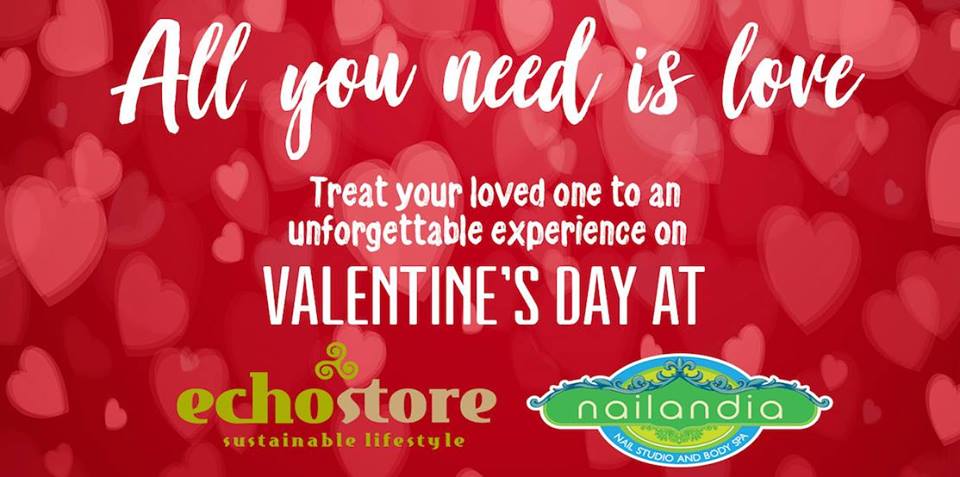 See the following options that best fits your interest:
A) For Php 1799 per couple, enjoy a HEALTHY LUNCH with free-range Lechon Belly at Echo Store on February 14 and a couple's body massage or whitening foot spa for two at Nailandia (redeemable anytime).
Buffet Lunch at Echo Store starts at 11am to 2pm.
B) For Php 1999 per couple, enjoy a HEALTHY INDULGENCE DINNER with free-range Lechon Belly and a glass of House Local Wine at Echo Store on February 14 and a couple's body massage or whitening foot spa for two at Nailandia (redeemable anytime).
Buffet Dinner at Echo Store starts at 6pm to 9pm.
For tickets, please visit Echo Store or Nailandia:
Echo Store
72 Domingo Velez St. corner Pres. Aguinaldo St.,
Cagayan de Oro City, 9000
+639177188014
Nailandia Nail Studio and Body Spa
SM CDO Downtown Premier
CM Recto Avenue, Cagayan de Oro City, 9000
+639175017056
NIC'S PIZZA BAGUETTES
"Love means watching a movie and eating burgers together."
Make your sweetie happy by taking her on a movie date and avail of Nic's Pizza Baguettes' "Steak-style Sloppy Joe Burgers" which is currently on a Buy One- Get One FREE promo for only P99! It's available every Thursday, Friday & Saturday at Limketkai Mall Cinema 1 & 2!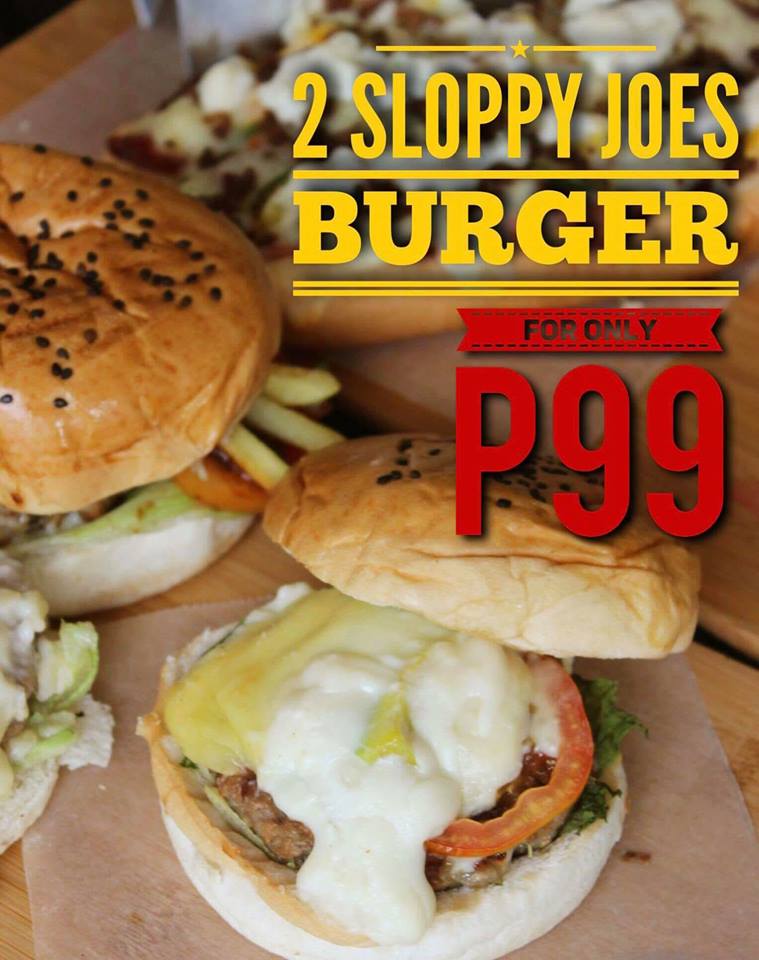 ORORAMA SUPERCENTER
Join Ororama Supercenter this love month of February! They got lots of exciting events lined up for you and your sweet heart! Check out their Calendar of Events below:

Planning to go shopping for Valentine's gifts? Ororama will have a 3-day Valentine's Sale event on February 14-16! View details on this poster below: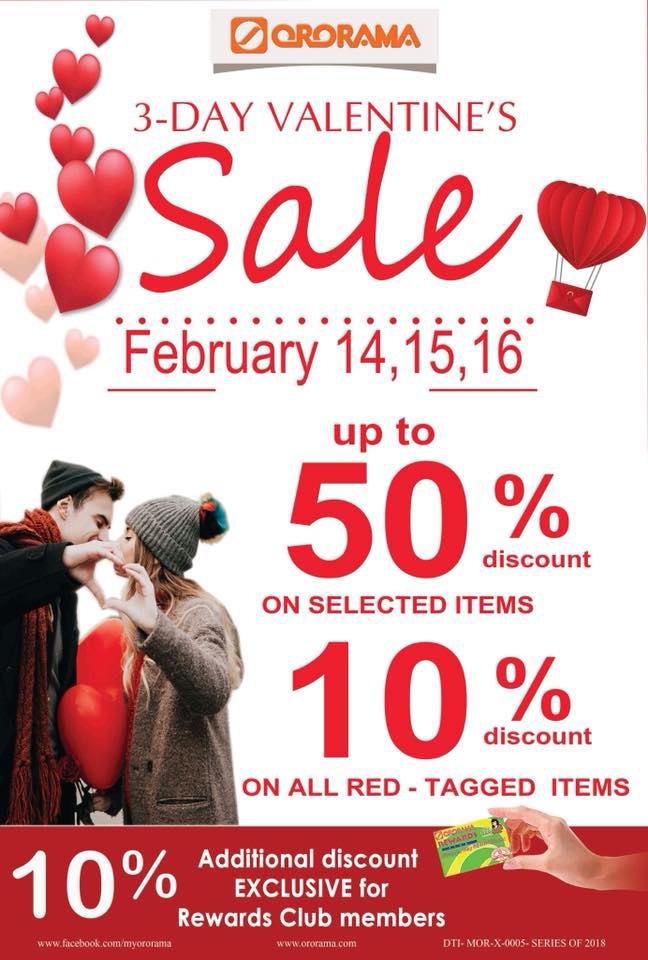 SIERRA DEL ORO
Skip waiting in line. Reserve your seats. Limited Slots. Aside from a Buffet Dinner, Romantic Set Up & Live Entertainment, enjoy the other perks of a MY SKYE VALENTINE guest.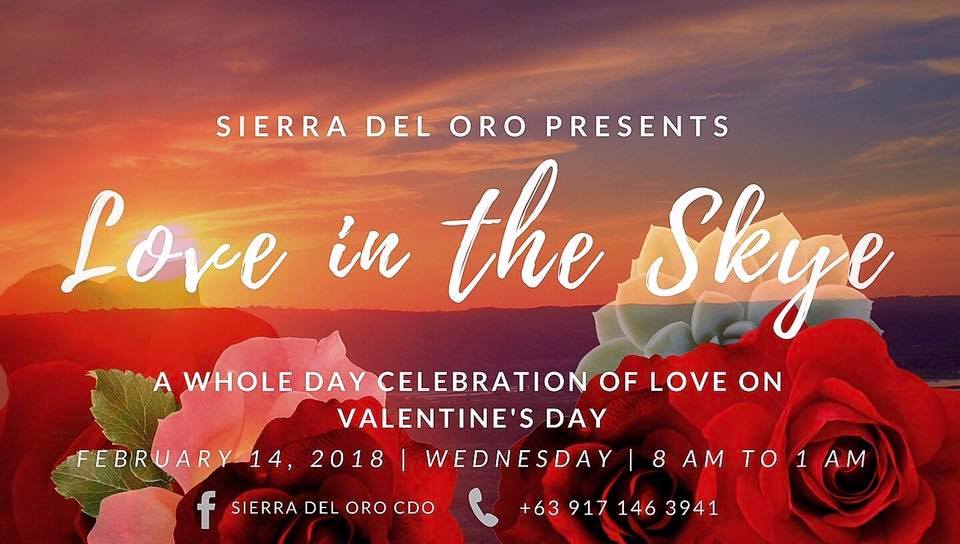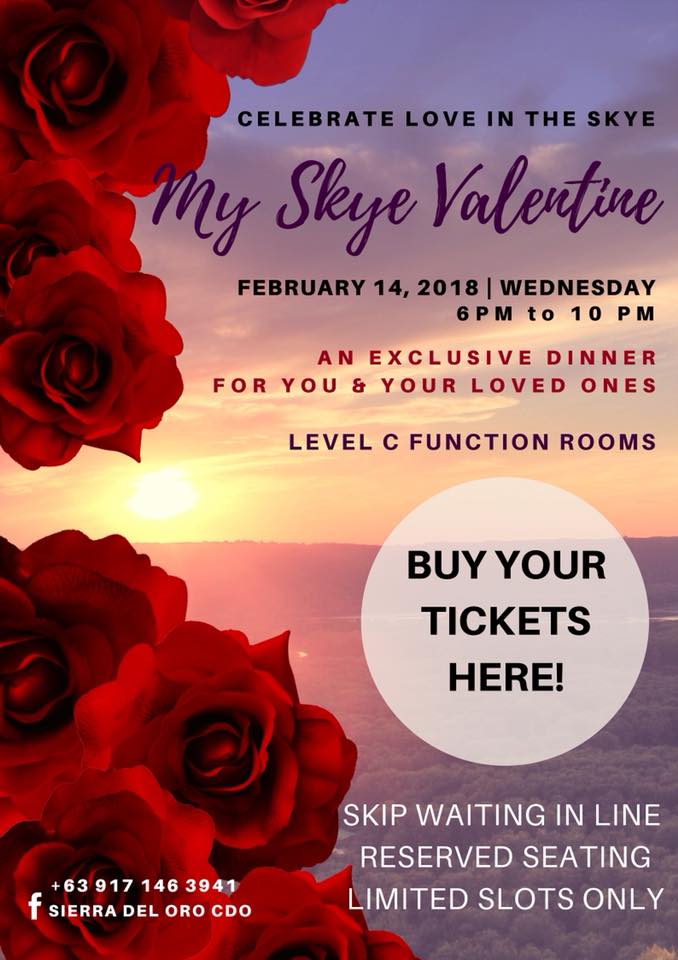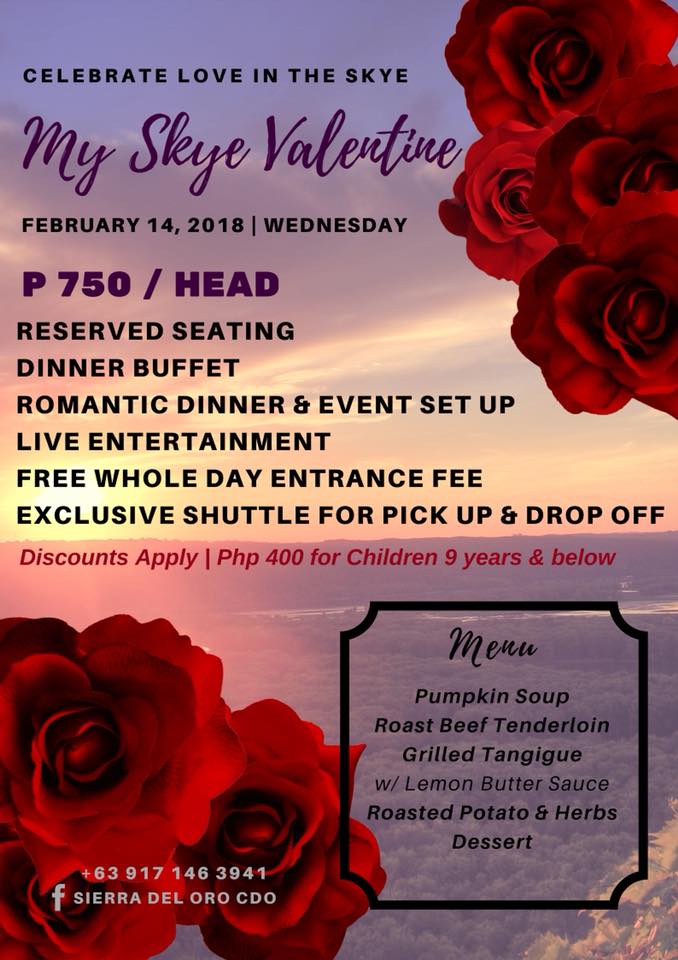 RESERVED SEATING & CHOICE SEATS. SEPARATE AIR-CONDITIONED VENUE AT LEVEL C FUNCTION ROOMS. FREE Whole Day Entrance to View Deck, Larry's Hill & Hugo Skye Lounge Live Bands (worth P 100).
FREE Pick Up & Drop Off Shuttle from Downtown (worth P200)
EXCLUSIVE PARKING AREA
Buy your tickets now! Limited Slots Only to keep the event intimate for all.
They got you and your loved ones covered this Valentine's Day so make it a family event!
Sierra del Oro is open to walk-ins on Valentine's Day for Larry's Hill, Hugo Skye Lounge, SUTU Skye Dining, Sierr-a-Cup & Sierr-a-Corner | P100 Entrance
BIGBY'S CAFE AND RESTAURANT
Make your special someone feel loved this Valentine's Day with the Bigby's Valentine's Cake – My Chocolate Valentine. Indulge in moist chocolate cake with whipped vanilla cream and decadent chocolate frosting. All of this for just 395! You don't have to look far or spend a lot for the perfect Valentine's gift.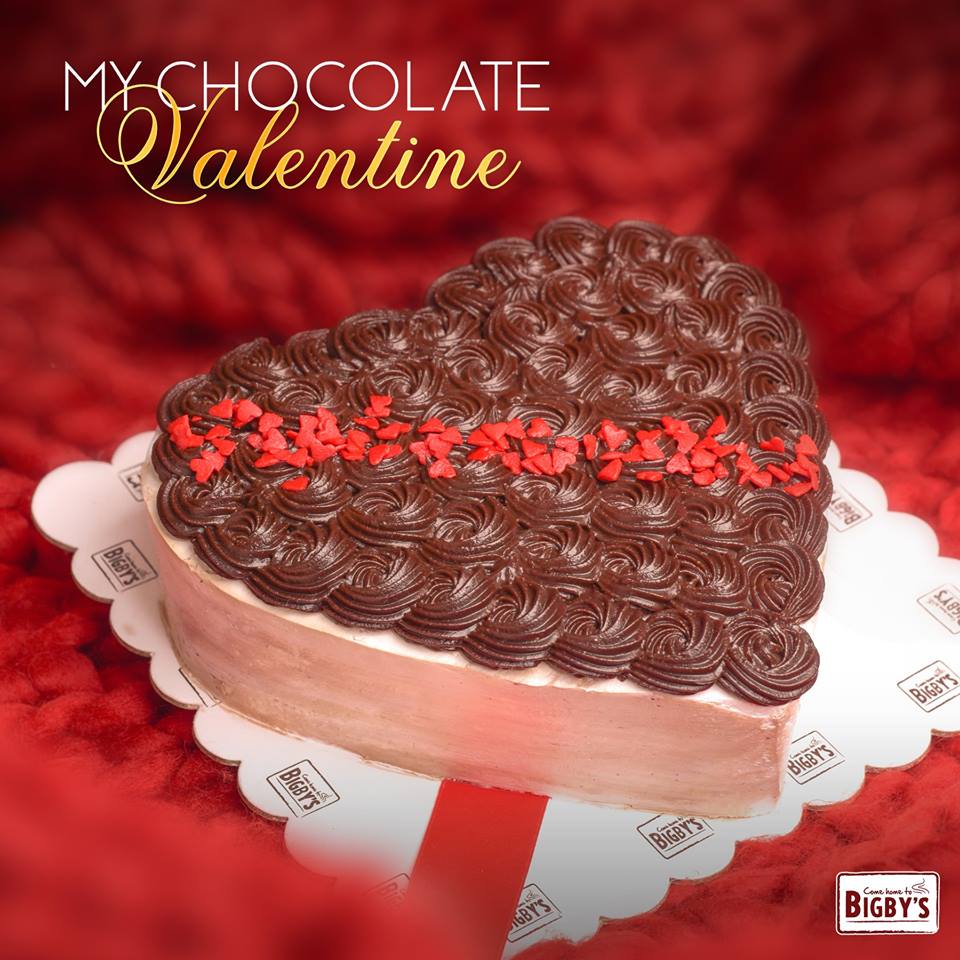 Reserve now or might as well, visit their Bigby's branches nationwide to be one of the first to try this limited edition cake. Happy Valentine's Day! Share the BIG love at Bigby's.
DOUBLE M HOTEL
Live in Valencia City and don't know where to go this Valentine's Day? Double M Hotel has you covered with their Valentine's Offering!
Dine & Relax 
Celebrate your Valentine's Day at Double M Hotel & enjoy sumptuous dinner at Roadhouse Cafe Grand Hall and Courtyard, Patag, Bagontaas, Valencia City Bukidnon.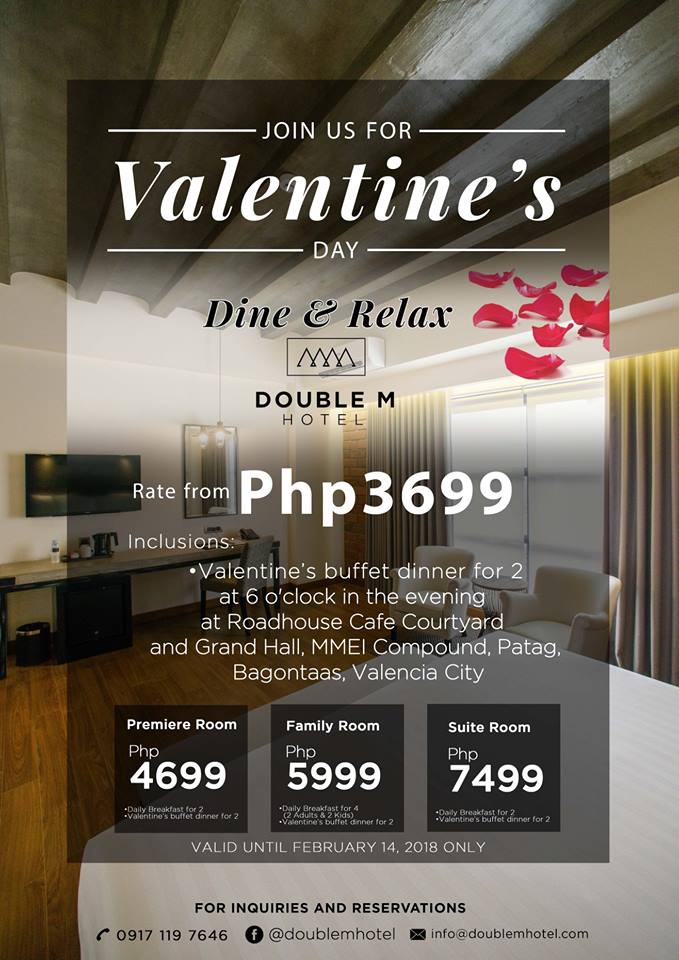 For inquiries & reservations:
Call 0917 1197646
Message them on their facebook page: Double M Hotel Valencia City
Email them at info@doublehotel.com
DOUBLE BUBBLE LAUNDROMAT CAFE
Valentine's day is fast approaching! Are you still short on budget to take your loved one on a date? Then this might be the answer!
Guess how many mini marshmallows are inside this 10 inch container and win an afternoon date at Double Bubble Laundromat Café!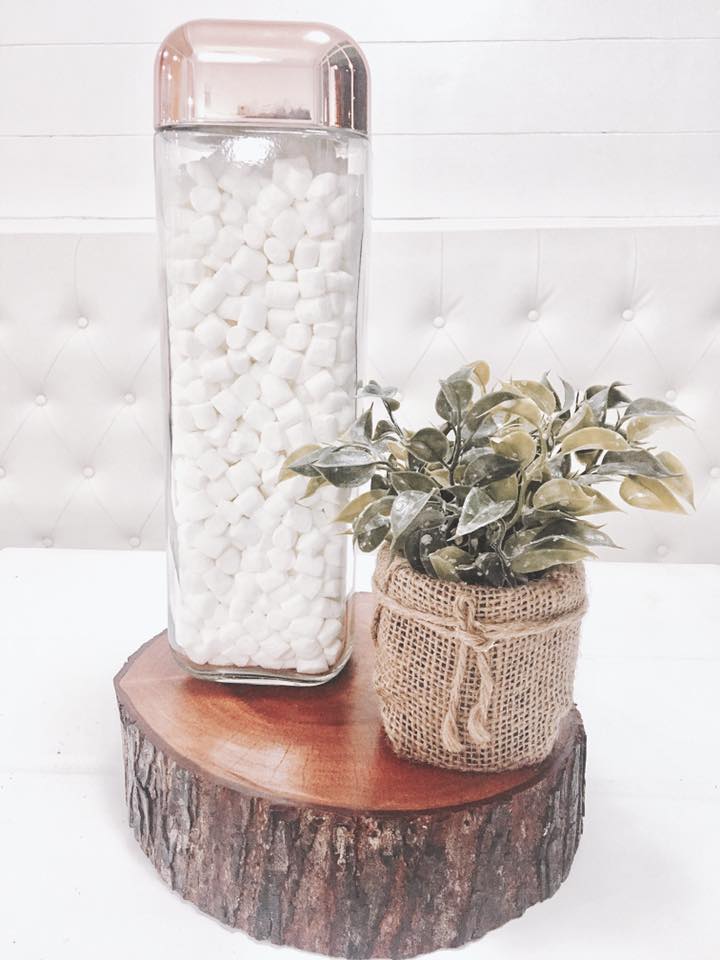 Visit them at LK Building, Rizal St., beside Monster Kitchen Gaston Park. For inquiries you may contact them 0917-822-2848.
SKYBAR CAGAYAN TOWN CENTER
The day of LOVE is just around the corner and Skybar at CTC has something super special just for you! Enjoy a night of FASHION and MUSIC! With DJ RB Banaag playing some of the greatest hits early in the evening to be followed by a stunning Fashion Show with the collection of Gil Macaibay III and to wrap it all off with a mini concert rendering the most romantic music to make Valentine's Night extra special.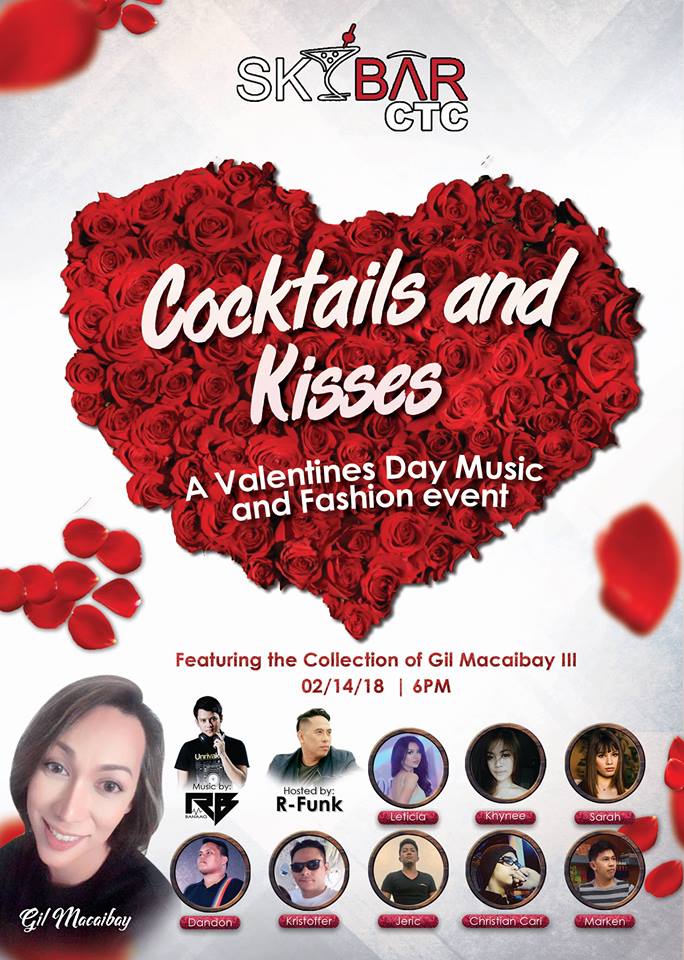 Come and join them for Cocktails and Kisses at SKYBAR CTC. February 14, 2018, 6:00PM
THAI ME UP
Together with your date, spice things up this February 14 at Thai Me Up's Khwam Rak, a Valentine Lunch and Dinner Buffet.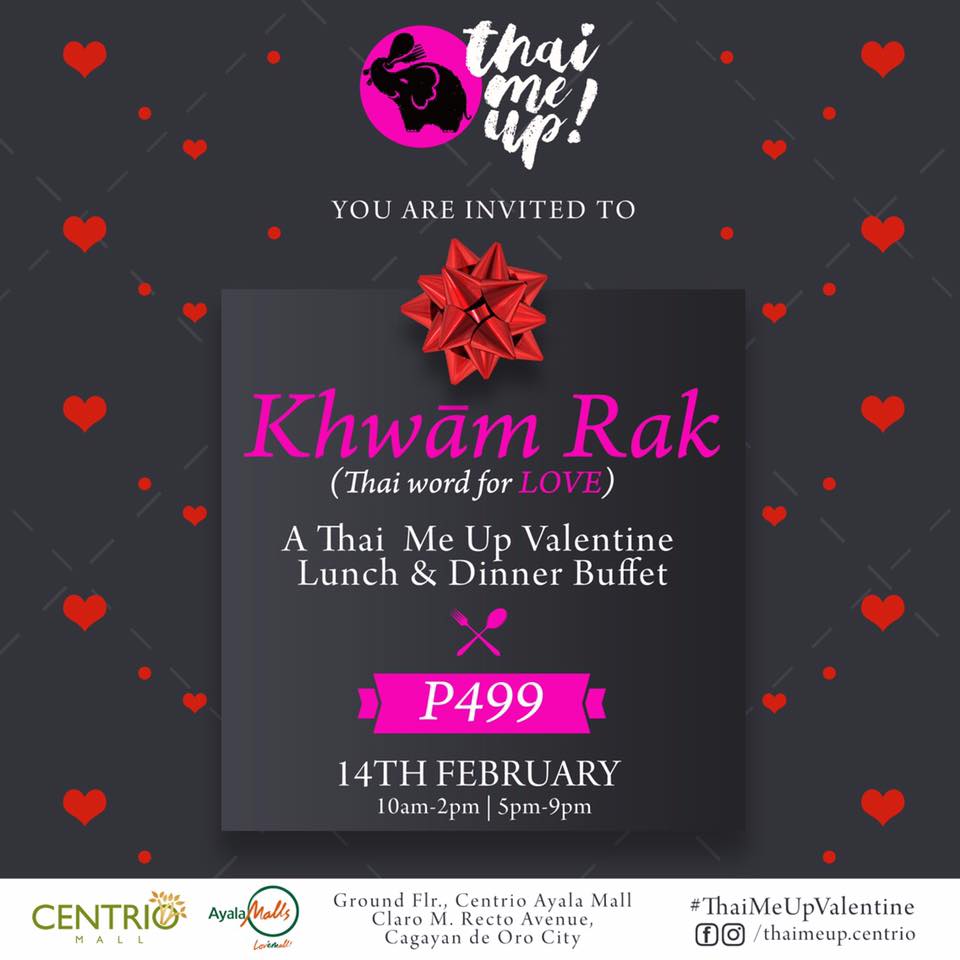 For only P499/person, enjoy the following appeTHAIzing dishes:
Thai Spring Rolls
Son-in-law Eggs
Pomelo Salad
Tom Yum Goong
Pad Thai
Thai Chili Crab
Chicken Ginger with Mushroom
Kaffir Sweet & Sour Fish
Mixed Vegetables
Bagoong Fried Rice
Plain Rice
Creme Caramel
With their new Thai-inspired interiors, they got the perfect ambiance and authentic culinary delights waiting for you. LIMITED tickets only.
UNIQLO SM CDO DOWNTOWN PREMIER
Uniqlo's Valentine's Gift Swap is here! Get up to P300 off if you share your code.
Download their app for the full mechanics. http://bit.ly/2EsY5xO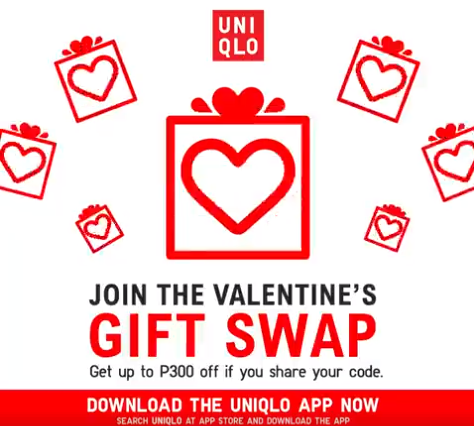 WRK FITNESS STUDIO
"Love means, getting fit together."
PROMO1: For Zumba lovers out there, WRK is giving you their love this month of February: "Wear a red top or bottom and pay 50 for Zumba class."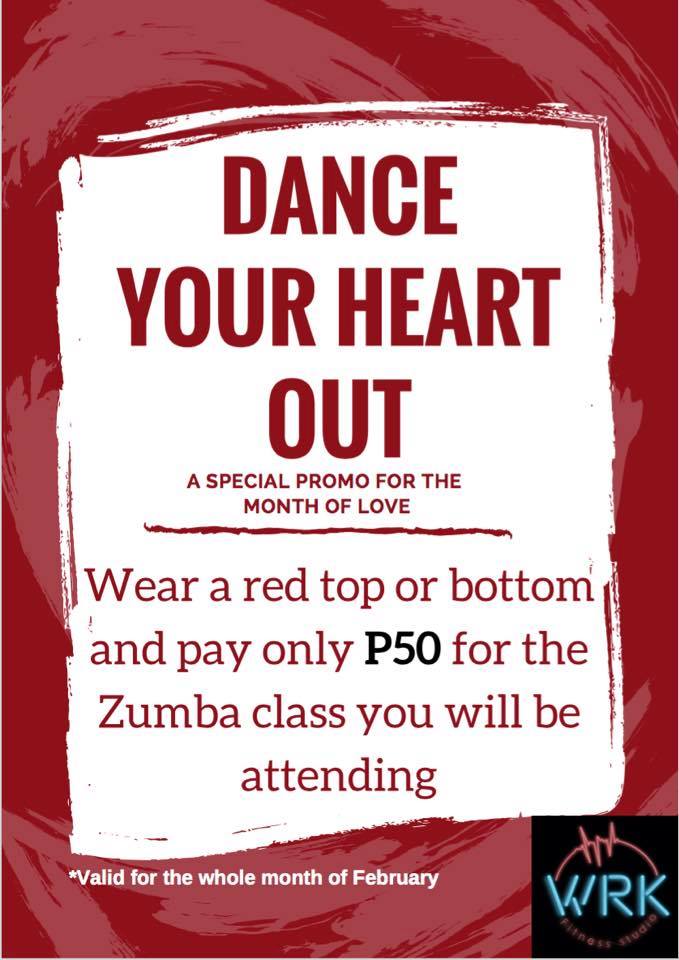 PROMO2: Nothing motivates you more than the one you love. Avail of WRK's very special promo this February and workout with your loved ones. Bring your dad, mom, husband, wife, BF, GF, brother, sister, or even your BFF. Here's WRK's workout promo for fitness buffs and those who want to start their fitness goals this month!