Brace yourselves photography enthusiasts! The Camera Club of Cdo together with its partners will hold the first ever "TSADA Cagayan de Oro Photo Walk" with Street Photography and Festival Lecture. This is set to take place on August 20, 2017.
The organization (Camera Club of Cagayan de Oro) behind the said event consists of amateur, hobbyists and photographers. Its main goal is to promote a deeper understanding of photography, develop technical knowledge and artistic skills of the members with the use of photographic imagery and to strengthen the relationship among members.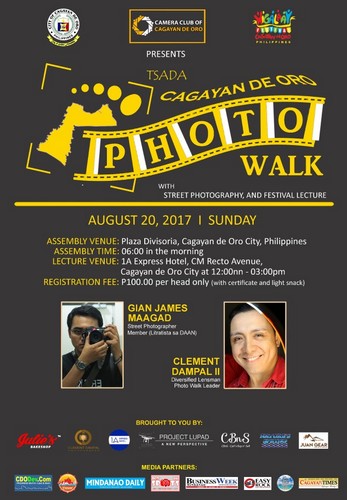 Now let's talk about the event. The Photo Walk is considered as one of the most important events this month since it is one of Higalaay Festival's parallel events. This photography event is open to all and wants people to see our city as one of the hottest tourist destinations in the country.
It wants to promote Cagayan de Oro's infrastructures, historical sites, chosen tourist destinations and Kagay-anons during our upcoming Higalaay Fiestivities. Through the Photo Walk, the participants will have the opportunity to join the programs that help them see the quality of life.
The event will take place on Sunday, August 20 at 6am. Participants will assemble at Plaza DV Soria then gather at 1A Express Hotel for them to be able to engage in Street Photography then listen to the Festival Lecture there at noon. It is in this venue where the participants can bond with each other, share their photos and experiences while eating lunch.
If you're interested to join, register now for only P100 and this includes a certificate and light snack.
Optional T-SHIRTS ARE AVAILABLE AT: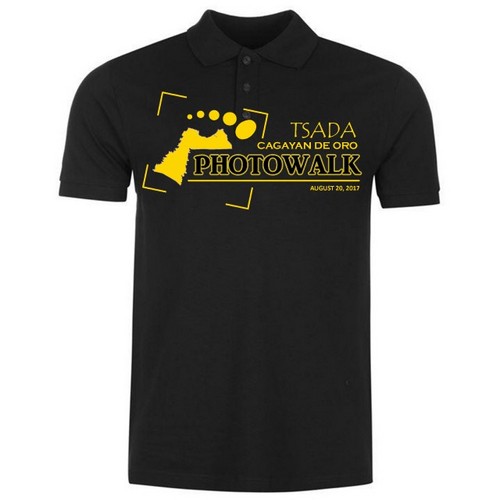 T-shirt: P250.00 (Small, Medium, Large), P350 (Extra Large)
Polo shirt: P350.00 (Small, Medium, Large), P400 (Extra Large)
Deadline for payment: August 14, 2017
What You Need to Bring if You Plan to Join the Event:
Digital Single Lens Reflex/Translucent cameras, and/or Mirror less Interchangeable Lens cameras
Point-and-Shoot camera owners are also welcome to join
A good tripod
Extra shirt
Bottled water
Pocket money
Interested individuals may reach Clement Dampal through his Facebook Page: https://www.facebook.com/ClementDampalPhotography or directly contact me through mobile: 0906-6577-669.
ABOUT THE SPEAKER:
Gian James Maagad is a Street Photographer based in Cagayan de Oro City. Gian has been doing street photography since 2012 after shifting to Fuji Mirrorless System. He is a member of Litratista sa DAAN, Manila-based Street Photography Group and the Camera Club of Cagayan de Oro.
ABOUT THE PHOTOWALK LEADER:
About Clement Dampal II: A Self-taught Diversified Lensman based in Cagayan de Oro, Northern Mindanao, Philippines who owns the award-winning travel site: www.bestspotsph.com. Founder of the Camera Club of Cagayan de Oro, and Co-founded the Mindanao Avian Photographic Society. Clement is a 2nd-time Photo Walk Leader of the Scott Kelby Worldwide Photo Walk and also the City Ambassador for the 24 Hour Project- A worldwide documentary project for 2 years consecutive.
This event is brought to you by the following:
* Presented by: Camera Club of Cagayan de Oro, The City Government of Cagayan de Oro, and Higalaay Festival 2017
* In partnership with:
– Business Week Mindanao and Mindanao Daily News
* Major sponsors:
– Project Lupad, 1A Express Hotel, Clement Dampal Photography, Julie's Bakeshop,
* Minor sponsors:
– Carl's Buy and Sell, Nature's Spring Water
* Donors:
– Juan Gear PH
* Media partners:
– Best Spots PH, Easy Rock 96.9 FM Station, The Cagayan de Oro Times, CDO Dev. com, The Explorer's Channel and Eats Good to Be in CDO.