Hosted by the Department of Tourism Region 10 office in partnership with Cebu Pacific, Quest Hotel, and organized by tourism consultants and event management company, Selrahco, the first B2B travel event of its kind will be held in Cagayan de Oro City from February 21 to 22, 2018 at the Limketkai Luxe Hotel.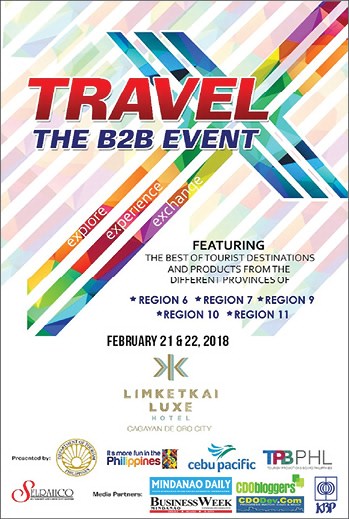 The two-day travel event dubbed as the Travel Xchange The B2B Event with the theme "EXPLORE, EXPERIENCE, and EXCHANGE" will gather top stakeholders of the travel and tourism industry in Visayas and Mindanao namely Regions 6,7,9,10 and 11 in Cagayan de Oro City (CGY). Accordingly, TravelX will bring in some 100 representatives from the hotel and resort sectors, local tourism offices, event organizers, tour operators, large and medium sized corporations, and social and civic clubs from the said regions.
The TravelXchange The B2B Event will arrange direct one-on-one (Business-to-Business, or B2B) between sellers and buyers in Region X and the other regions mentioned. Hence, the ideas is to foster increased two-way air travel and travel related business between the ten destinations directly between firms from these areas such as Manila, Cebu, Davao, Zamboanga, Bacolod, Iloilo, Dumaguete, Tagbilaran, Boracay, and Clark Freeport.
TRAVELX SELLERS DIRECTORY are as follows:
* Belleve Resort Bohol (Bohol)
* Lite Shipping (Cebu)
* Asiatic Adventure Tours and Services (Bohol)
* Almont Hotel (Butuan)
* San Remigio Beach Club (Cebu)
* Belmont Hotel (Manila)
* Savoy Hotel s (Manila)
* Marco Polo Davao (Davao)
* Enchanted Kingdom (Pampanga)
* 4 Bros and I Events and Travel (Zamboanga)
* iTravel Tourist Lane (Zamboanga CIty)
* Dakak Resort and Properties (Dapitan City)
* Be Resorts (Cebu, Bohol)
* Bohol Beach Club (Bohol)
* Seda Hotel (Cagayan de Oro)
* Bai Hotel (Cebu)
* Robinsons Hotels and Resorts (Manila)
* Asia Travel (Pasig)
THE CONCEPT:
The First ever B2B travel event of its kind ever to be staged in Northern Mindanao, will gather top stakeholders of the travel and tourism industry from Regions 6,7,9,10 and 11 in Cagayan de Oro City (CGY) on February 21-22, 2018.
These regions have been chosen as their capital and major cities have direct air or sea links to and from CGY.
Tourism potentials have never been brighter than now as we welcome the year 2018. The commercial and economic boom in CGY and nearby cities such as Iligan, Malaybalay has created a huge tourism market and on hand to participate in this event as the travel agents, LGUs, civic clubs and organizations, schools and various travel groups from the area with the full support of the Department of Tourism Region 10 office.
Invited to lead the delegations from the other participating regions comprising of tour operators, hotels, resorts, and tourist attractions are the DOT regional directors. This B2B event will put sellers in direct contact with dozens of serious potential buyers on a one-on-one table top discussion. A program is enclosed.
Registration with a nominal fee is now open to all sellers. Participation forms for all buyers from Misamis Oriental are also available.
For more information, contact Mr Apollo Santos at Seirahco Events via mobile: 0927-317-3737 landline (032) 415-5951 or email: apollo.selrahco@gmail.com.
TARGET BENEFICIARIES:
1. Primary Target Market
Local travel agents, tour operators, schools, and local government units in Misamis Oriental.
2. Secondary Target Market
Corporations, groups, and institutions that are for corporate trips, business meetings, and corporate conferences and incentive travels.
TravelX-The B2B Event is supported by the Department of Tourism regional offices of Regions 7,9,10, and 11 with Limketkai Luxe Hotel, Cebu Pacific, Quest Hotel, and Seven Seas Waterpark and Resort. With media partners, Business Week Mindanao, CDO Bloggers, KBP Cagayan de Oro Chapter, and CDO Dev.com.