Following the declaration of Martial Law done by President Rodrigo Roa Duterte in the entire island of Mindanao on 2017 May 23, price freeze on basic necessities and prime commodities is automatically enforced in Regions 9, 10, 11, 12 and in CARAGA. Pursuant to Section 6 of Philippine Republic Act 7581 (also known as the Price Act), prices of basic necessities and prime commodities should remain frozen at their prevailing prices and should be placed under price control once an area is declared under state of calamity or under an emergency situation.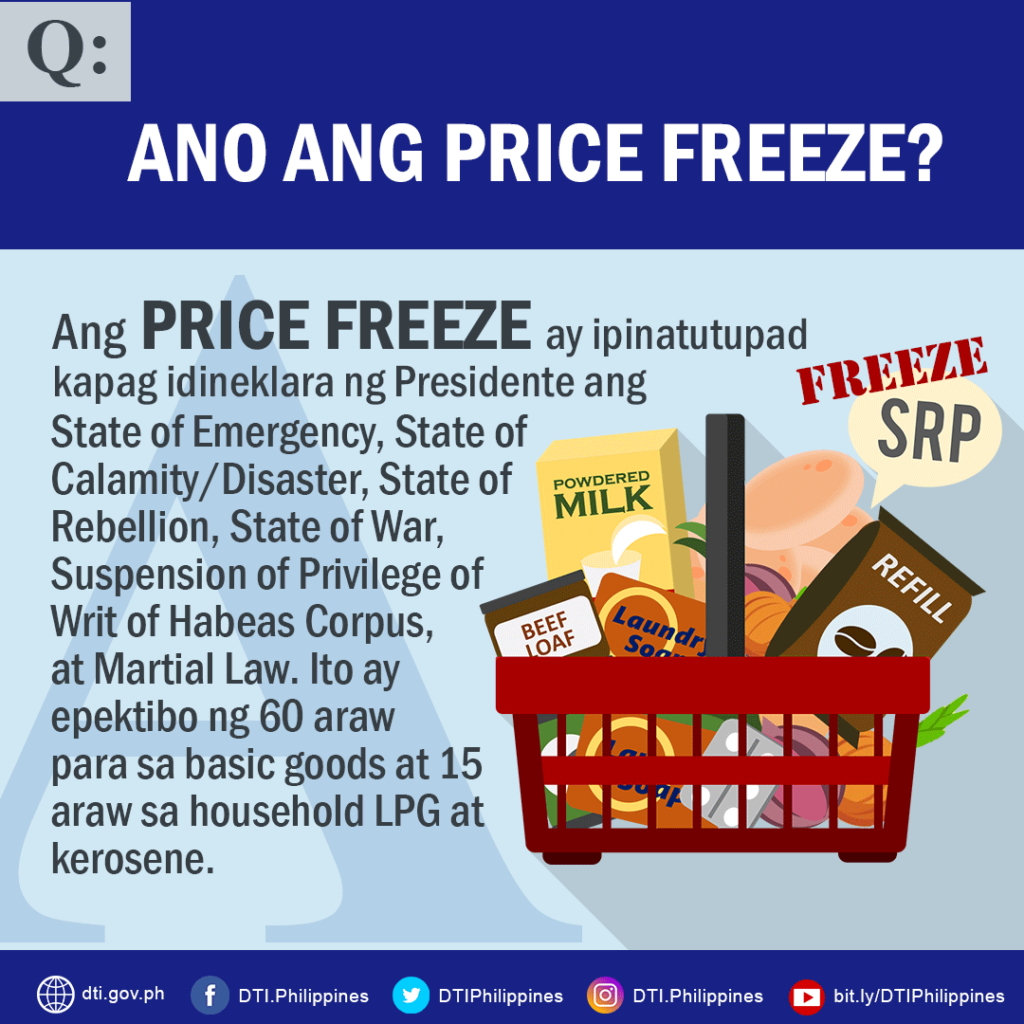 The implementation of price freeze lasts according to the period indicated in the declaration. In this case, the price freeze will run for a period of 60 days unless the president lifts the declaration, the congress revokes Martial Law, or the Supreme Court pushes to null the president's declaration. Business owners who will be found guilty of violating the Price Act shall be charged an administrative fine of five thousand pesos (Php 5,000) up to One Million Pesos (Php 1M) or 1 up to 10 years imprisonment.
In line with this, five government agencies are entrusted to monitor prices in the market to ensure consumers can access goods at reasonable prices. These are the Department of Trade and Industry (DTI), the Department of Agriculture (DA), the Department of Health (DOH), the Department of Energy (DOE), and members of the Local Price Coordinating Council (LPCC). The DTI will monitor prices of basic necessities such as bread, canned fish, coffee, salt, potable water in bottles, processed milk, instant noodles, candles, detergent, laundry soap and prime commodities such as flour, vinegar, soy sauce, processed and canned pork/beef/poultry meat, toilet soap, basic construction materials, batteries and basic electrical supplies, and school supplies.
Meanwhile, the DA will monitor prices of fresh and dried vegetable and meat goods, feeds, veterinary products, sugar and cooking oil; the DENR is delegated to monitor prices of firewood, charcoal, nipa shingles, plyboard, plywood, and sawali; the DOE will monitor prices of household liquefied petroleum gas (LPG) and kerosene while the DOH will observe prices of drugs and medicines. All these implementing agencies enjoin business owners to comply with this mandate. Consumers are also advised to seek lists of prevailing prices of basic necessities and prime commodities in their respective areas.