Imagine eating "pizza with a twist" that's what Nic's Pizza Baguettes is like, you're eating French bread that has pizza toppings. If you can't get enough of their pizza baguettes from their Dolores branch, here's some good news for you Nic's fanatics, they just opened a new branch at Limketkai Mall Cinema!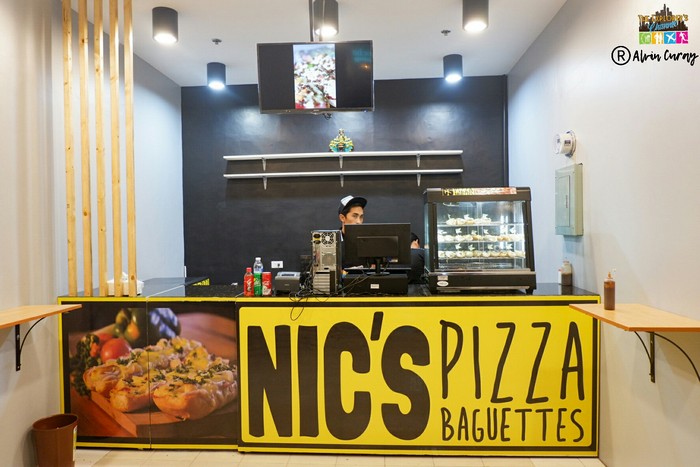 Finally, your favorite snack is now at a more accessible location and is just within reach. You can now grab a pizza baguette anytime especially when you're about to watch a movie. Nic's Pizza Baguettes offers Pizza Baguette + French Fries pairing which is ideal for those movie dates.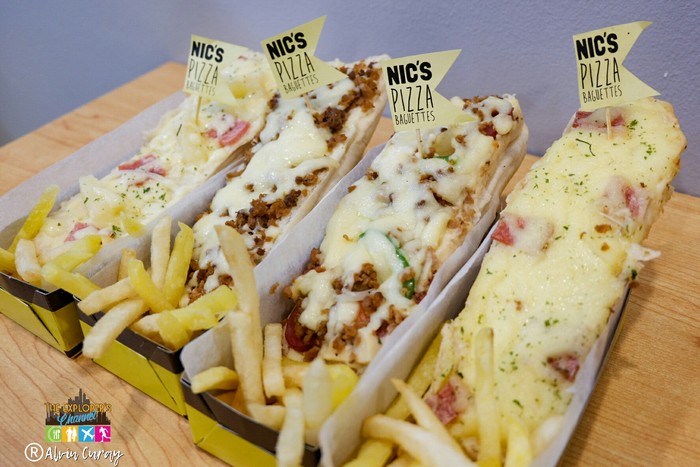 But before the business expanded, everything didn't happen in an instant. There's a story behind every success.
How it All Began
Nic's Pizza Baguettes is originally owned by Reynold Domingo who first entered the food industry several years ago, built several businesses like; Pizza de Oro, Captain Richie's Baby Back Ribs and Kataste Hot Sauce. He owns the main branch located at Dolores Street, Cagayan de Oro City.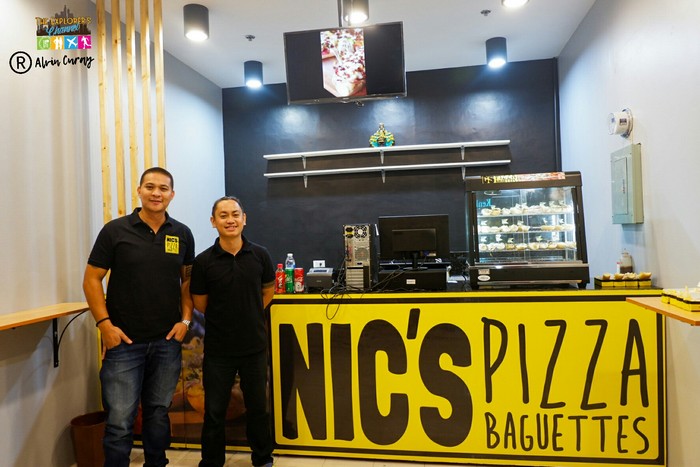 Later on, his childhood buddy Marc Anthony Chavez and his German business partner, Axel Schumacher entered the scene and put up the newest branch at Limketkai Center Cinema.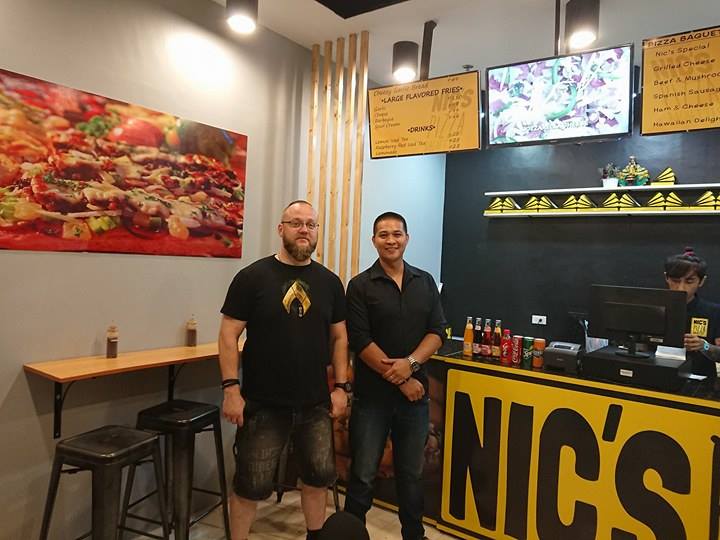 All of them already had a passion for food so when they agreed upon putting up a business, Nic's Pizza Baguettes is what came to mind.
Products Offered and Best-Sellers
Nic's Pizza Baguettes offers "pizza baguettes" and "flavored fries" at their Limketkai branch but plan to add more products soon.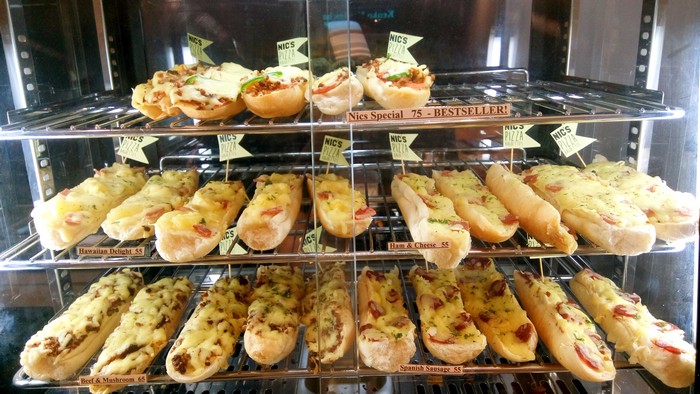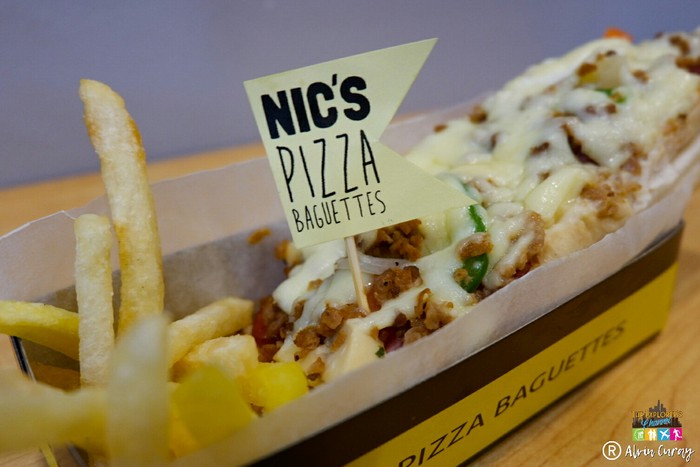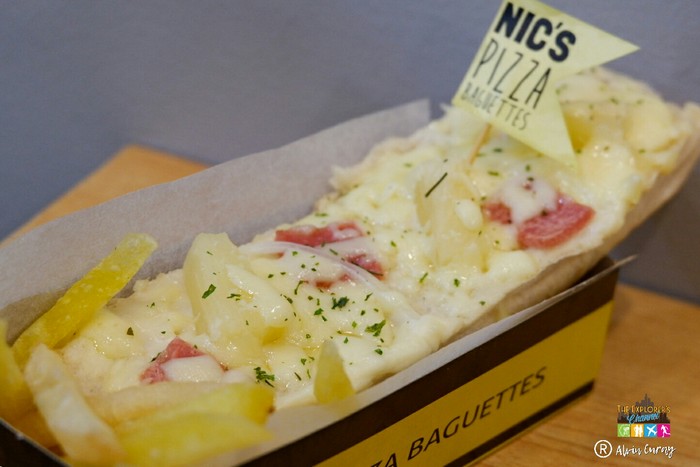 However, at their Main Branch which is in Dolores Street, they're offering a wide range of products such as; pizza baguettes, garlic bread, French fries, lasagna and Buffalo wings. They just added their "square pizzas" product line which comes in three unique flavors which are; tuna, garlic chilli and pepperoni.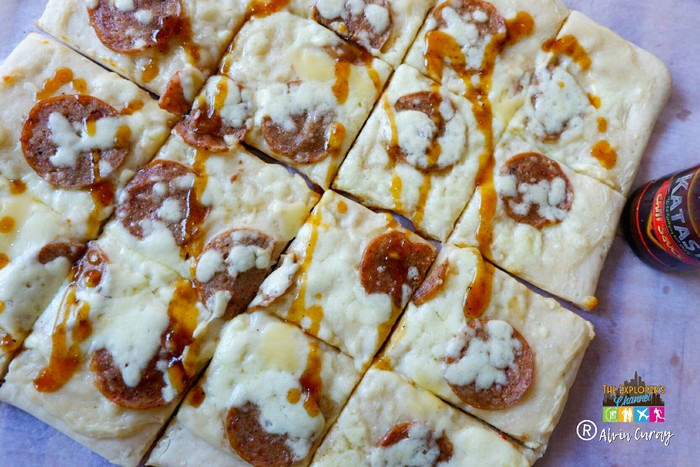 Their best-seller is "Nic's Special" which contains 7 special toppings all in one special pizza baguette. Some of these toppings include; sausages, ham, bell peppers, mushroom, onions, ground beef, mozzarella cheese and their signature sauce.
Their Limketkai Branch is currently offering Nic's Special with flavored fries at P75 which is the ideal snack for movie dates. Other combos are priced at P65 also with fries depending on the flavor.
Meet the Owners
Who are the people behind "Nic's Pizza Baguettes" and what's their story?
Reynold Domingo is a nurse by profession but his passion for food surpassed his medical field ambitions. He is a Kapampangan which explains why he is a good cook. His family is also into the food business which is why he shares the same passion. He's been in the rafting industry for 7 years and his passion is to serve tourists. His ultimate dream is to create something that would make Cagayan de Oro proud of him. He used to own a pizza shop and a baby back ribs diner (Captain Richie's Baby Back Ribs). Later on, he formulated a special barbecue sauce and hot sauce called Kataste and put up "Nic's Pizza Baguettes" in Dolores Street last August 2014.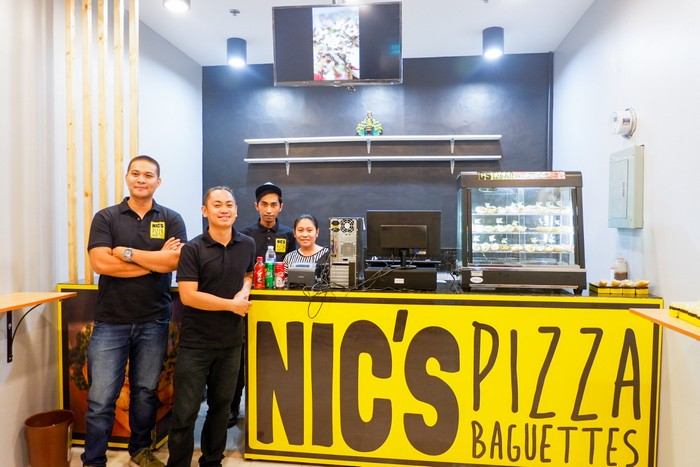 Marc Anthony Chavez is Reynold's childhood friend, they've known each other since they were kids. He took up Tourism Major in HRM at Liceo de Cagayan University. Ever since before, Marc always loved to cook. His family had their own business in the past, a store called "Paseo de Chavez". He used to work at Mallberry Suites and was one of the pioneering front desk staff at Limketkai Luxe Hotel where he worked for four years. After his hotel stints, he helped in his family's business and engaged in the catering business. After some time, Reynold offered him a business partnership which resulted to him and his German business partner putting up "Nic's Pizza Baguettes" Limketkai Mall branch.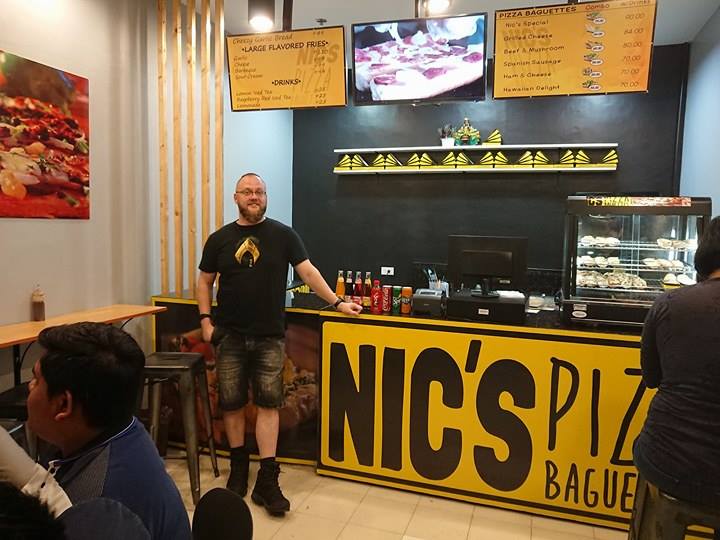 Axel Schumacher is Marc's friend and co-owner of "Nic's Pizza Baguettes" Limketkai Mall branch. He is a famous chef and former Army Ranger.
Future Plans, Operating Hours and Current Promos
The trio are planning to expand the business and put up a "Nic's Pizza Baguettes" at the CDO Bar "Food Park" and there they will serve pizza, beer, ribs, steaks and other new and exciting menu items.
Nic's Pizza Baguettes Main branch is open from 10 am – 8:30pm daily. While their Limketkai Mall branch is open from 10 am – 8pm (weekdays) and 10 am – 9pm (weekends).
Nic's Pizza Baguettes Main branch has ongoing Promos which are the following:
"Unlimited wings served with Pizza, fries and drinks" for only P199! 10 am-8 pm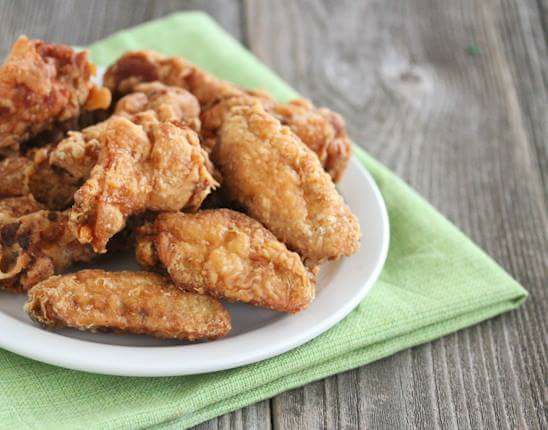 "Loaded lasagna Promo" Buy1-Get1 FREE for P155 only happening every Thursday, Friday to Saturday.
Contact Information
For inquiries and bookings you may reach them through the following information below: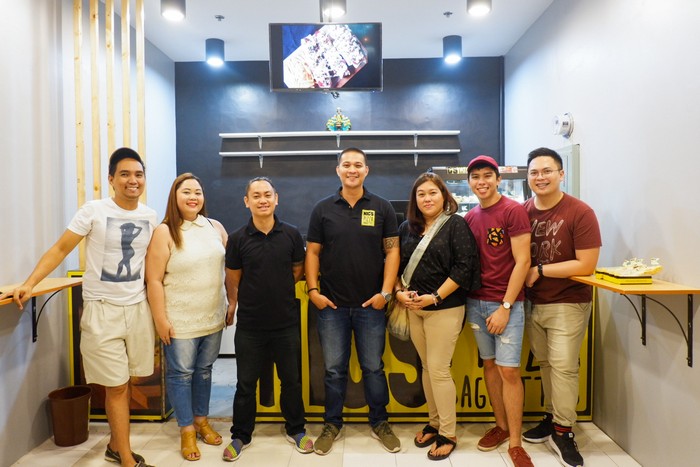 Facebook: Nic's Pizza Baguettes
Contact Number: 0917-621-6602
Website: http://nicspizzabaguettes.com/