Cagayan de Oro is the adventure capital of Mindanao. This means that there are several activities that residents and tourists can enjoy for recreation and leisure. One of these is Sierra del Oro's newest offering, paragliding.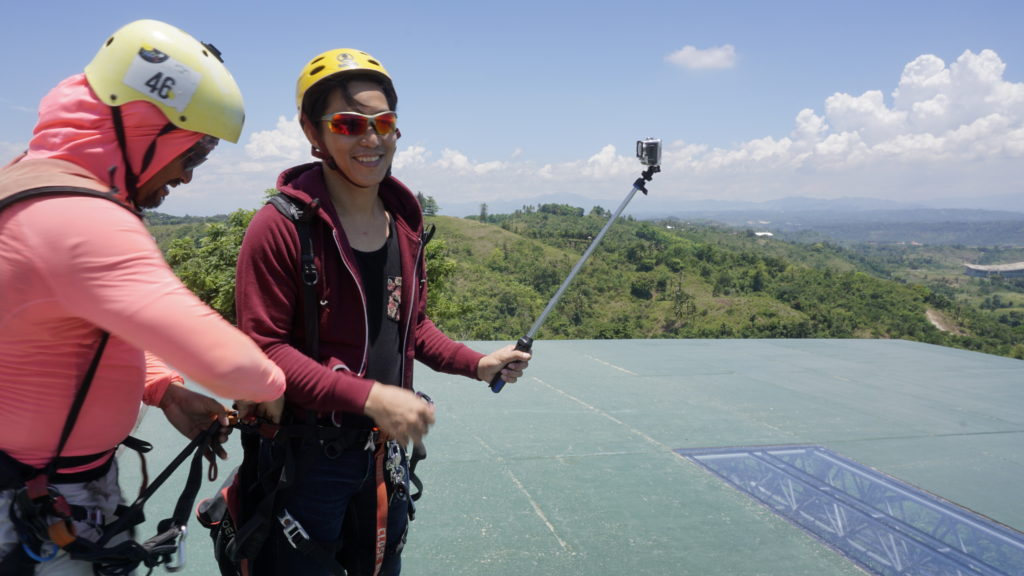 What is paragliding? It is an adventure sport that allows flying paragliders to see the view from above while sitting on a harness that is suspended below a fabric wing that is composed of several interconnected baffled cells. The glider aircraft being used is light, free-flying, has no rigid primary structure and is launched by foot.
Paragliding is the newest attraction in Cagayan de Oro. It is being offered at Sierra del Oro, Indahag Hills for only P2,500 per head.
Here's how it all happened:
How to Get There
To reach Sierra del Oro, you can take a taxi ride from your location through Grab Taxi application or go to Macasandig and take a taxi ride from there. The establishment is planning to add a shuttle service for guests soon so this is also going to be a form of transportation for those with no vehicles.
Why You Should Try It
If you want to try something new and exciting while in Cagayan de Oro, paragliding is definitely for you. Paragliding gives you the adrenaline rush you'll get from extreme sports and it gives you a sense of fulfillment once you conquered your fear of heights.
You'll feel mixed emotions when trying out the sport since you feel excited, nervous yet happy at the same time. Isn't it amazing to be able to see nature's beauty thousands of feet above the ground?
Paragliding lets you fly like an eagle giving you a bird's eye view of the scenery around you. It's a lot different with just looking at the view from a building since you are up in the air, flying with your own wings. Just the thought of it thrills you and it is an activity one should not miss when in Cagayan de Oro.
How Does it Work?
First of all, the pilots will brief you on how to go about the adventure sport. He gives you safety measures and teaches you instructions for paragliding.
Once this short briefing is done, they set up your harness, helmet and make sure you are attached properly to the gliding aircraft and to your pilot. When everything is set, you are instructed to run to the air before finally taking off.
The process definitely sends an adrenaline rush to your veins. But once you get through the jumping part, all you can feel is happiness and satisfaction.
Being up in the air lets you see God's amazing creations and the beauty of nature. It will make you appreciate them and think about how wonderful life truly is.
Depending on the wind, one paragliding session usually lasts 5-10 minutes. You're lucky enough if you catch a good wind.
As for us, we did it around 10-11 am and the wind was good. One of our team members reached 11 minutes up in the air! Guess what? He was lucky enough to have "Buko" as his pilot. Buko is a world champion in paragliding in 2011 at the Asian Sea Games.
So he surely knows how to maneuver the air glider in such a way that you'll have a magnificent and unforgettable experience! We highly recommend you try him cause his awesome!
How to Get Booked
Planning to try paragliding with friends and family? Get booked by contacting the following numbers below:
088 (851-1800) or 0917-326-1800
You can also visit their Facebook Fanpage: Sierra del Oro CDO
About Sierra del Oro Resort and Leisure Park
Sierra del Oro is the perfect getaway for those who want to escape the hustle and bustle of the city. It is a 30-45 minute ride from the city and offers a breath-taking view to its guests.
The facility is complete with a café, bar and restaurant, mini zoo and fun activities to try specifically, paragliding. They have a popular restaurant called "Hugo Skye Lounge" that offers a great dining and al fresco experience to their guests.
It has a bar that plays cool DJ music during weekends to entertain the crowd.
Sierra del Oro plans to add an adventure park, a swimming pool and other developments to their establishment soon so stick around for updates.
Although the place isn't a 100% complete, several residents and tourists flock to the place everyday just to see the spectacular view at the venue and have a sweet escape away from home.