Last September 8, 2017, The DOST Regional Transfer Day took place at the 26th Mindanao Business Conference at Xavier Estates Sports and Country Club.
About Regional Technology Transfer Day 2017
Building a fervent link between R&D and technology commercialization has always been the goal of TAPI. With the passing of RA 10055 or the "Philippine Technology Transfer Act", DOST has been pushing for an enabling ecosystem that could facilitate smoother and faster transfer of local technologies into the mainstream market.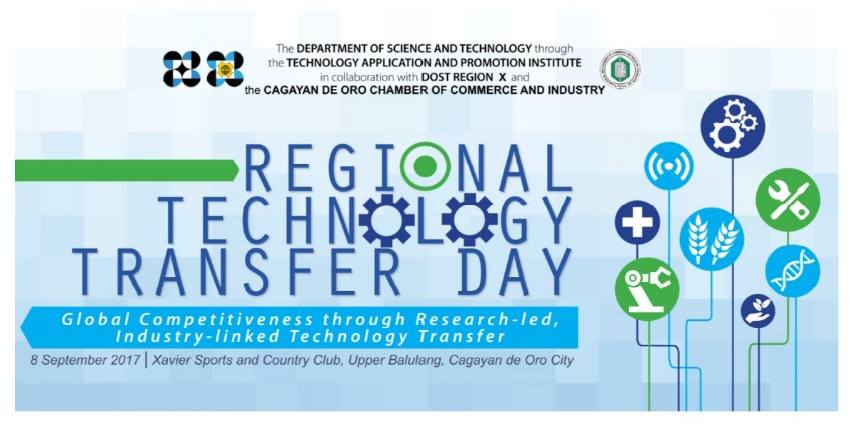 For its part, several programs and policies has been implemented by DOST in support of a more proactive and responsive technology transfer system, such as the Intellectual Property (IP) Policy, Technology Transfer Protocol, Fairness Opinion Board/Report Guidelines and IP Management Protocols. DOST has also been ensuring the market-readiness of local technologies by providing support in pre-commercialization aspects of R&D breakthroughs.
While these programs and policies are instrumental in setting up the technology transfer, the role of the private sector in the whole technology transfer pathway is still pivotal and crucial in propelling for a more holistic and integrative technology adoption. Clear partnerships and linkage between research institutes and the private sector is vital in promoting a dynamic pathway between generation and utilization.
The First Regional Technology Transfer Day in Superdome, Ormoc City, Leyte was conducted last 14 September 2016, after the historic National Technology Transfer Day in Hotel Sofitel, Manila last 27 April 2016 and would recognize the significant milestones that DOST has made in ramping-up of the country's global competitiveness, strengthening our local economy, and uplifting the lives of Filipinos.
A total of 58 inquiries on 73 technologies showcased/exhibited were documented. Environmental monitoring, agricultural machinery, food processing and transportation technology were the technologies that received the most inquiries during the event. Topping the list with the most inquiries was the Hand Tractor-Attached Rice Transplanter (12), followed by Charging in Minutes in Minutes of CharM (9) and then the Food Innovation Center technologies (7).
Eighteen term sheet were also forwarded to Fairness Opinion Board for the preparation of Fairness Opinion Report. The third and final leg of last year's Technology Transfer Day was held at the SMX Convention Center, Lanang, Davao City last December 13, 2016 which was participated by almost 500 investors.
In this year, the Mindanao leg of the Technology-Transfer Day will be extended into a three-day event and will be a part of the 26th Mindanao Business Conference 2017 which is organized by the Cagayan de Oro Chamber of Commerce and Industry Foundation, Inc. (ORO CHAMBER). The MINBIZCON 2017 2017 is recognized as the largest annual business conference in Mindanao.
With the theme "Emerging Opportunities, ONE-MINDANAO", this year's event is a perfect setting to highlight Mindanao as the next venue for investments and the next economic center in the country. The expected attendance is around 1,500 from different business groups, private sectors, chamber members and government agencies and a large number of these participants are foreign investors.
With such a profile of investors in mind, the name of the forum for the Regional Technology-Transfer Day will be Mindanao Forum on Breakthrough Technologies 2017. This evokes an active and vibrant sense of creating researches and innovations which is the culture of the DOST is cultivating especially in Mindanao. This event is also highlighted by the Plenary session of the DOST Secretary, Sec. Fortunato T. Dela Pena on DOST's Technology-Promotion projects which is an integral part of his itinerary in his scheduled visit in Region 10.
It is envisioned that with the Regional Technology Transfer Day 2017 being a sub-event of MINBIZCON 2017, the technologies from DOST-recognized research centers and also technologies generated by the region's own research institutions will be strongly showcased by bringing technology generators, research institutions, investors and stakeholders together in a unique opportunity to build meaningful partnerships and forge technology transfer deals between industry players and the DOST's leading innovators.