CdeOToyZone is a group of professionals in Cagayan De Oro City who collects toys/figures from various countries. They will be having a toy convention again on November 10 to 11, 2018 at Limketkai Center. The event is entitled "CDO TOY SHOW 2018: Project Superhero" It will be a follow-up event from its successful predecessors which were also held on the same venue.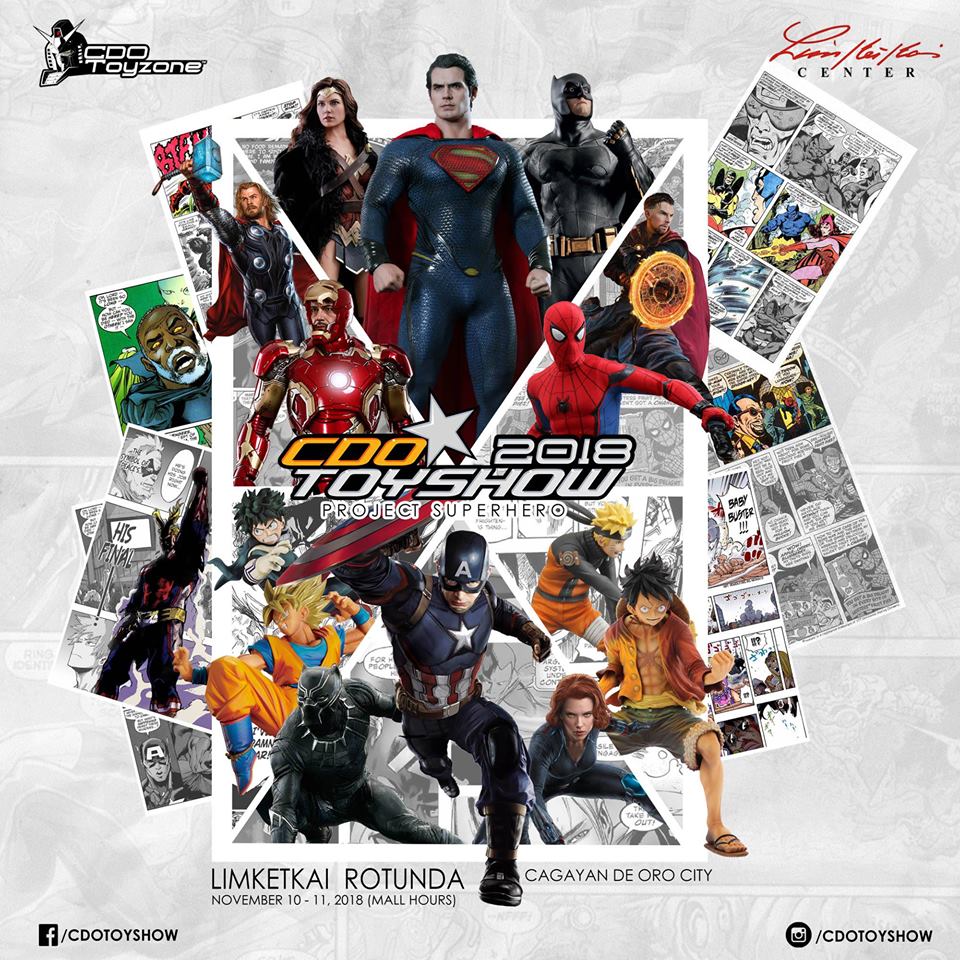 Toy conventions are anticipated and celebrated all over the world such as Toy Con, WONFES and San Diego Comic Con in America just to name a few. In a span of 3 years, CDO TOY SHOW has become one of the most anticipated events in Northern Mindanao. People all over Mindanao travel to CDO just to join the event. This year it will be more exciting and bigger compared to its predecessors.

During this event, attendees will be able to witness thousands of toys and collectibles from all over the world. Toy enthusiasts also get to see their favorite superheroes come to life through cosplay, and for the first time, the event will be having a life-size statue gallery! There will also be tons of interactive activities and exciting prizes will be given away as well!
Event for a Cause – Beneficiary
Children and the less fortunate are very close to the event organizers' hearts. They believe that helping the children help themselves is a good way of establishing a stable foundation for their future. That is why the goal of this event is to also help unfortunate children.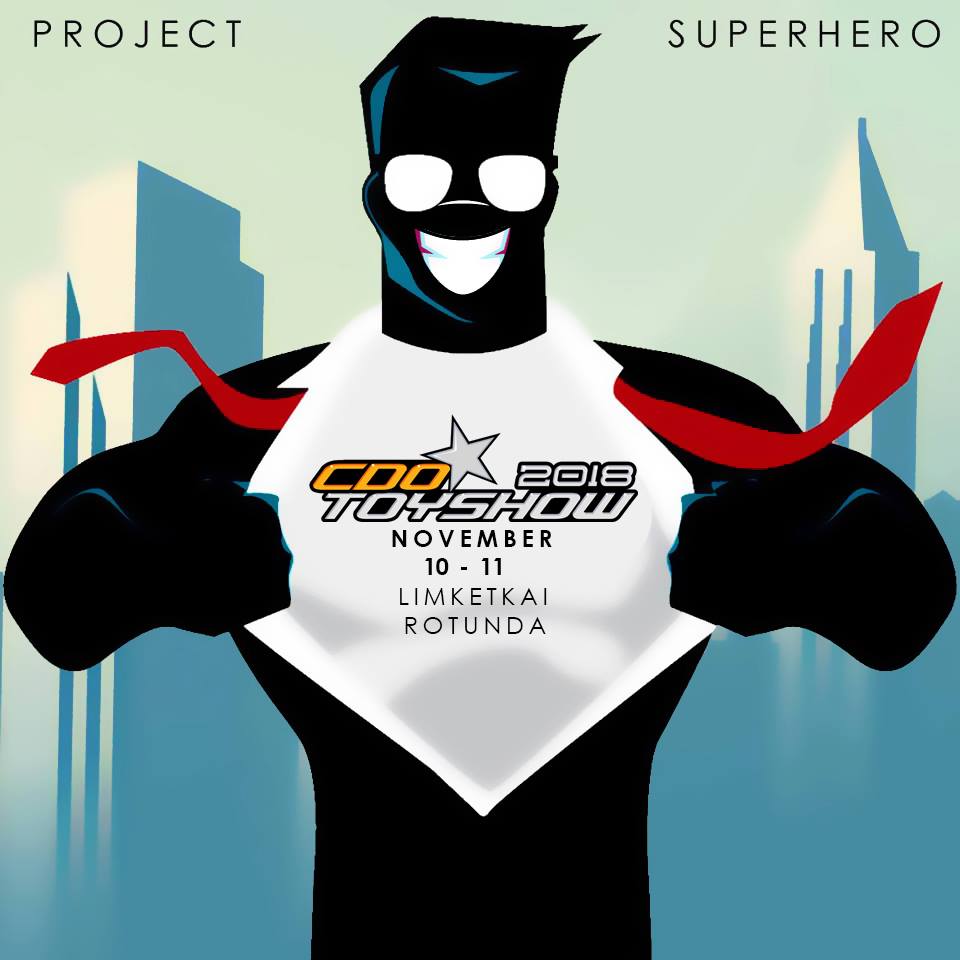 In the spirit of the upcoming Christmas season, CdeOToyZone will be having an outreach program for the less fortunate children and they will be giving away school supplies, food, and gifts; because they believe that Christmas should be extra special for the kids especially to those who are in need.
If you want to support this cause, join the CDO Toy Show 2018 and take part in this momentous event! Not only are you able to share your passion with others, meet fellow enthusiasts but you are also able to help the less fortunate ones!
For more information, you can contact them at 0917-209-7158 or email them at cdotoyshow@gmail.com. You can also visit their Facebook Page, here. Check out their Instagram Account as well.
RULES FOR THE COSPLAY COMPETITION
Here are the RULES for the upcoming Cosplay competition, so get your best Superhero costume ready! Just click on this link and READ the instructions CAREFULLY!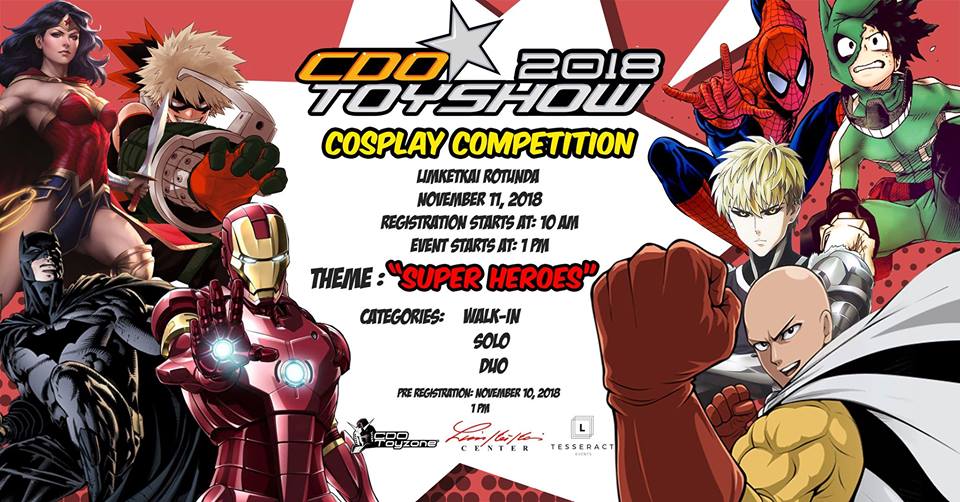 Pre-Registration will begin on Saturday, November 10, 2018, at the Limketkai Rotunda. No costume required. Main registration is on Sunday, November 11, 2018. Wearing costumes is required on that day. There will also be a Cosplay gathering happening on November 10, 2018, as well. The contest proper will be on November 11, 2018.
HAUL GIVEAWAY
CDO TOY SHOW in partnership with The Phantom Dibs, presents: "HAUL GIVE AWAY!" As promised they will be giving away lots of prizes! DO YOU WANT TO WIN THESE AWESOME PRIZES?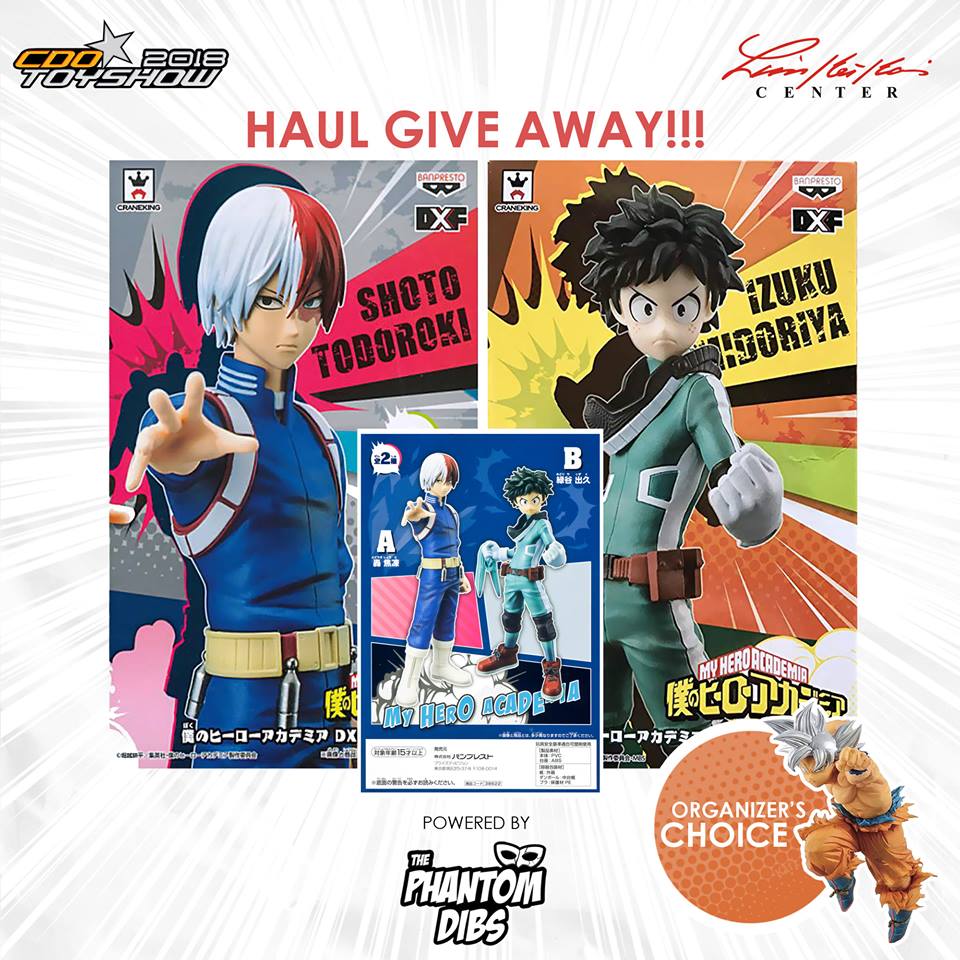 HERE IS HOW:
Like these pages:
The Phantom Dibs
www.facebook.com/thephantomdibs
CDO TOY SHOW
https://www.facebook.com/cdotoyshow
Like this post and answer the question
"WHO IS YOUR HERO? AND WHY?" (It can be a fictional character or someone you know)
Share this post on your timeline and tag 4 of your friends (make sure to set the viewing settings to the public).
They will pick the winner through www.commentpicker.com and the winner will receive a set of MY HERO ACADEMIA DXF FIGURE!!!
BONUS: Aside from the winner that will be drawn randomly. We will also pick the best answer and the person who has the best answer will receive a SON GOKU ULTRA INSTINCT FIGURE.
NOTE: If the winner has not followed all the mechanics or missed a single step, his/her prizes will be forfeited. If the winner resides outside Cagayan De Oro City he/she will shoulder the shipping fee of the items.
PROMO PERIOD: October 15, 2018 to October 23, 2018 (10:00pm)
Sounds like an exciting event? What are you waiting for? JOIN NOW!!!