It's going to be an awesome night full of fun and great music!
Beauty Wise Philippines will be holding its first-ever concert for a cause in Cagayan de Oro on December 13, 2019. This event for a cause will be held at the Pelaez Sports Complex for the benefit of the elderly.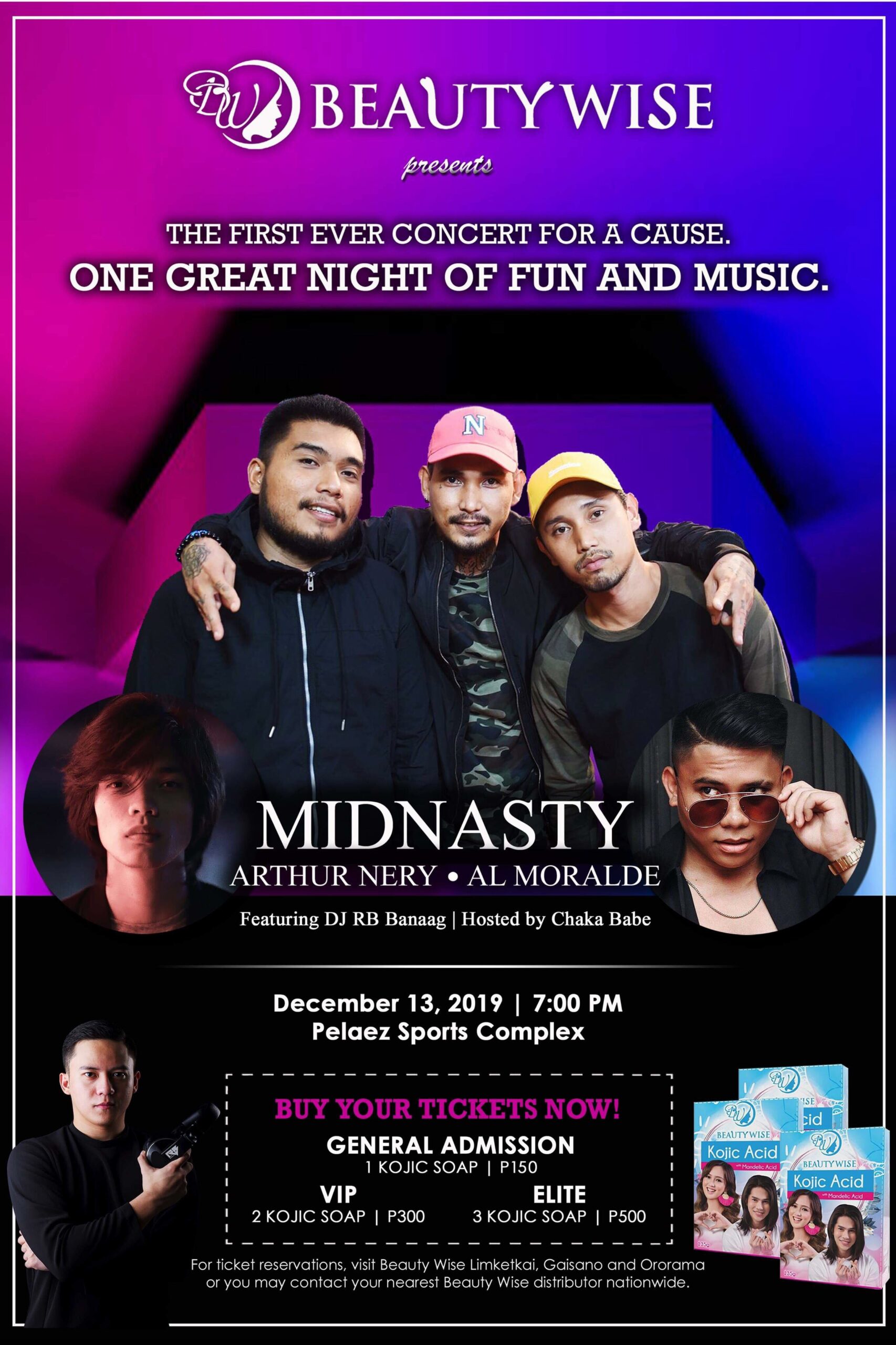 The lead act for the concert is a popular group called "Midnasty" and other local artists such as Arthur Nery, Al Moralde and RB Banaag.
Who is Midnasty?
Midnasty was founded in 2001, by the twins Fry and Murray with the dream to put Dumaguete City on the map. This dream fueled the duo to experiment with hip-hop, and with the drive they had and the backing of their friends and brothers who later joined the group, Midnasty, from that day forward, was on its way.
In 2004, Ar Kho, one of the younger brothers of the duo joined Midnasty. His unique sense of style and legitimate "street charisma" opened an opportunity for Midnasty to reinvent itself. With Ar Kho's help, Midnasty began its rise to popularity in the city by releasing self-produced tracks over the radio station of the university where the brothers studied.
The rise of following in Midnasty's musical venture inspired the founding of a secondary group called Chilled Minds Clique in 2008. CMC (Chilled Minds Clique) would eventually become a valuable part of Midnasty bringing Makoy and Early (founding members of CMC) to the stage.
In 2009 Midnasty broke through to Manila by winning MTV Emerge; a win that brought the group a recording contract with no less than Apl De Ap of the Black-Eyed Peas. Two years later, 2011, Midnasty opens as the front act for the Black-Eyed Peas, performing Brand New Day, a new track that marked another change in Midnasty and their music.
Following the success in Manila, Midnasty came back to Dumaguete to release a new sound and style in 2013; with tracks like Brand New Day, World Gone Blind, Can You, Gago Trix, Daguit, Only Here for The Night and #Trouble, Midnasty's music continues to grow over the internet via youtube.com.
Now, in 2015, Midnasty gives you Bisag Asa. A new track with a new sound, loyal to the Dumaguete roots of the group. And with the new and upcoming album Brave, Midnasty guarantees a sound better than ever.  Other songs made popular by Midnasty are the following; mYstakes, Ilongga, Cegurado and Pakilig.
How to Buy Tickets and Where are the Ticket Outlets?
To get tickets to the event, all you have to do is purchase Kojic Soaps. These are the ticket equivalents to the purchased products:
Buy 1 Kojic Soap (P150) = 1 General Admission Ticket
Buy 2 Kojic Soaps (P300) = 1 VIP Ticket
Buy 3 Kojic Soaps (P500) = 1 Elite Ticket
You can buy products and get tickets at the following Beauty Wise outlets in Cagayan de Oro: Limketkai, Gaisano and Ororama.
For more information and inquiries, you may reach them at the following contact information below:
Facebook: Beauty Wise Philippines
Website: https://www.beautywiseph.com/