AirAsia, the World's Best Low Coast Airline today flew its maiden flights from Laguindingan International Airport on October 28, 2018. Here's a look at the Inaugural Flight and Ceremony that happened last Sunday. To mark its first flight in Cagayan de Oro and to celebrate its expansion in Mindanao, the airline launched its newest flights using its brand-new Airbus A320 fitted with wing-tip devices or sharklets that help reduce fuel burn and emissions by improving the plane's aerodynamics. The "sharklets" enable savings of 4% in fuel consumption or corresponding to an annual carbon reduction of around 1,000 tons per aircraft. AirAsia has a current fleet of 21 Airbus A320s from only two aircraft in 2012 when the airline began its first commercial operation in Clark, Pampanga.
Arrival at Laguindingan International Airport
It was a sight to behold as AirAsia flight Z2 691 piloted by the airline's flying CEO Captain Dexter Comendador received the traditional water cannon salute upon arrival at 9:30 AM in Laguindingan International Airport.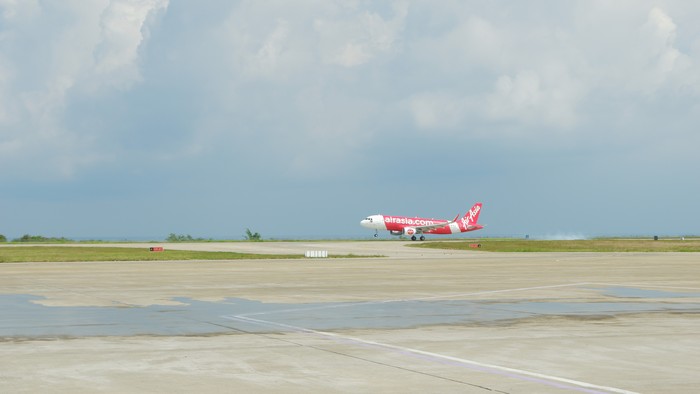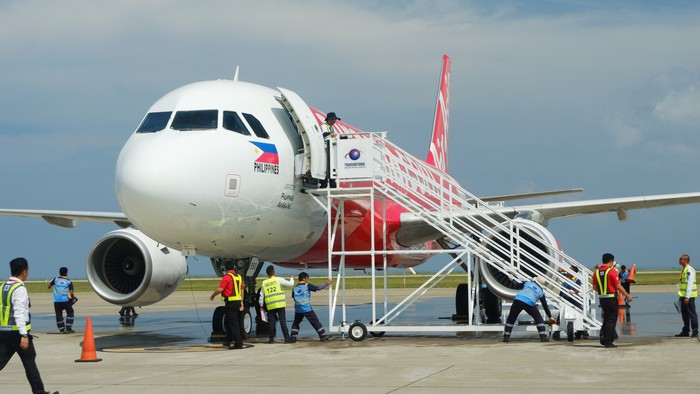 Passengers of flight Z2 691 were warmly welcomed with AirAsia freebies and cultural necklaces. The arrival area was also filled with music and dancing as the Kagay-an Performing Arts greeted the crowd.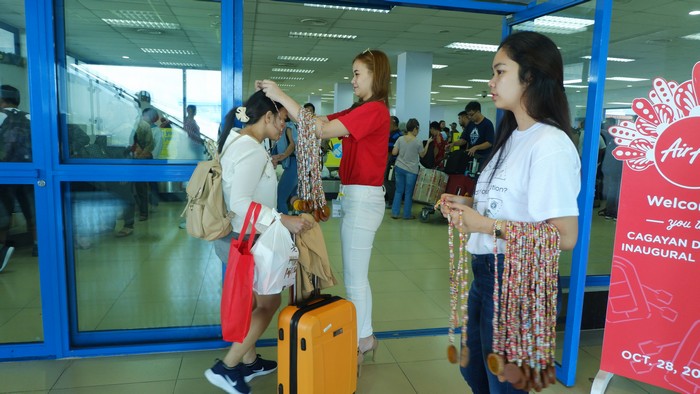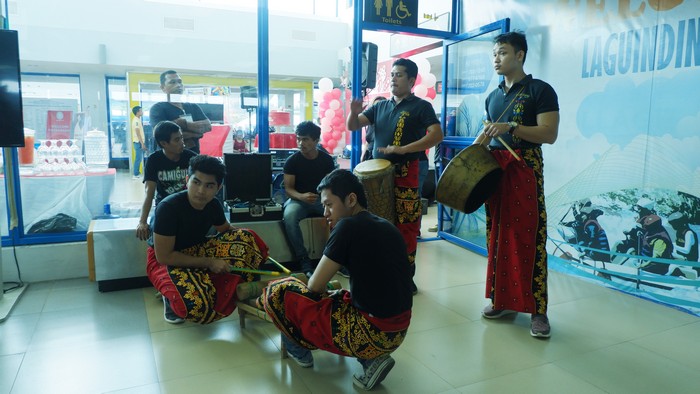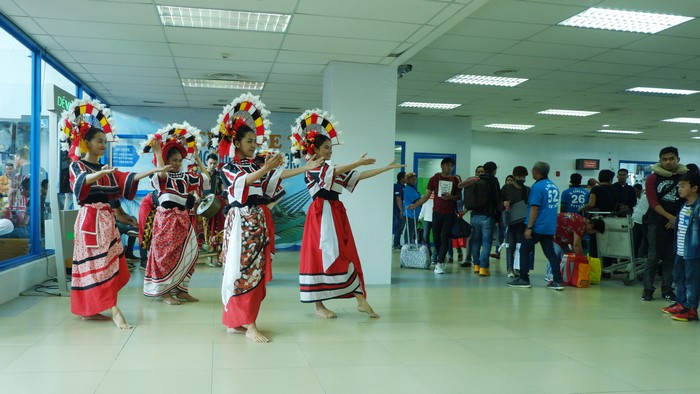 Welcome Ceremony
Distinguished guests led by Misamis Oriental Board Member Nancy Madjos, City Councilor Ian Nacaya representing The Office of The Mayor, Department of Tourism Regional Director Marie Elaine Unchuan and airport officer Wilfredo Encinas graced the welcome ceremonies held at the airport's arrival hall.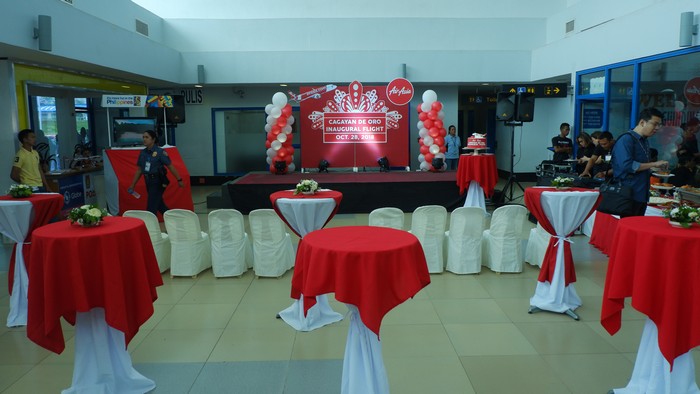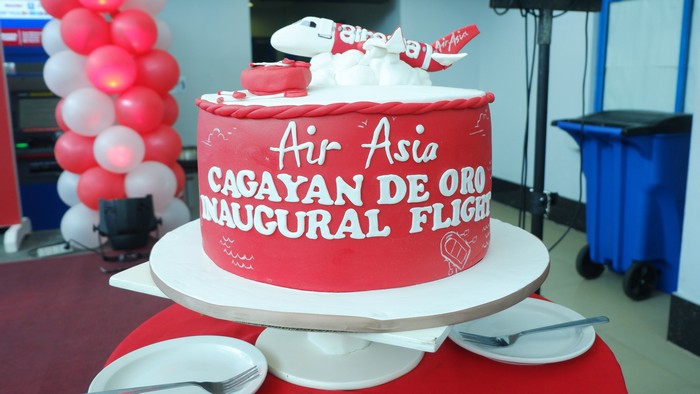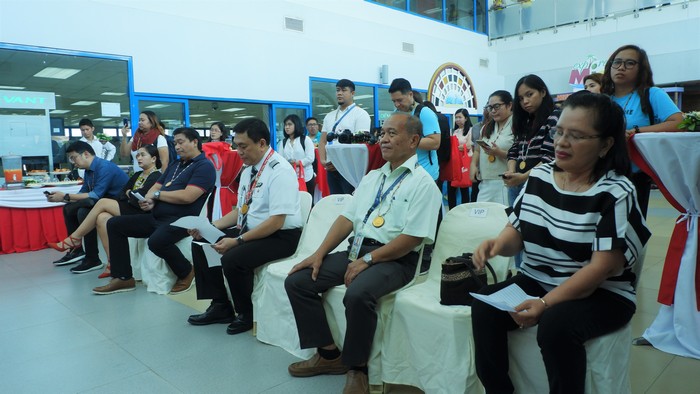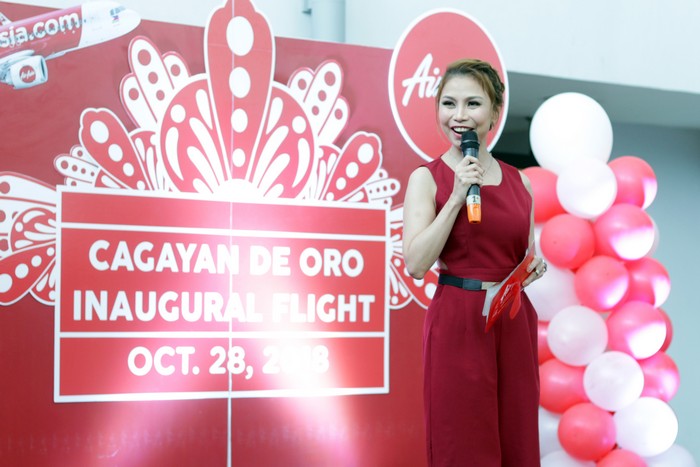 The ceremony was hosted by Ms. Nicole Abas-Datayan and was started with a Cultural Dance by the Kagay-an Performing Arts.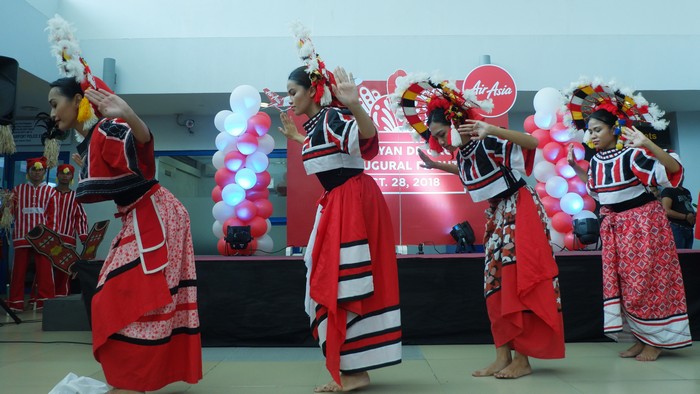 Next was AirAsia's flying CEO, Capt. Dexter Comendador's speech. "We are a member of the AirAsia Group, the leading and largest low-cost carrier in Asia, servicing the most extensive network of over 135 destinations across all Asean countries, Asia, India, Australia, China, Middle East, and Hawaii in the US. Our commitment is to connect the Philippines especially the underserved cities outside Metro Manila to AirAsia's massive network via direct or seamless fly-thru service in our main hub in Kuala Lumpur which can now be accessed from Cagayan de Oro to Cebu or Manila," Comendador said. "With the new flights to Cagayan de Oro, we are re-affirming our slogan, 'Now Everyone Can Fly'."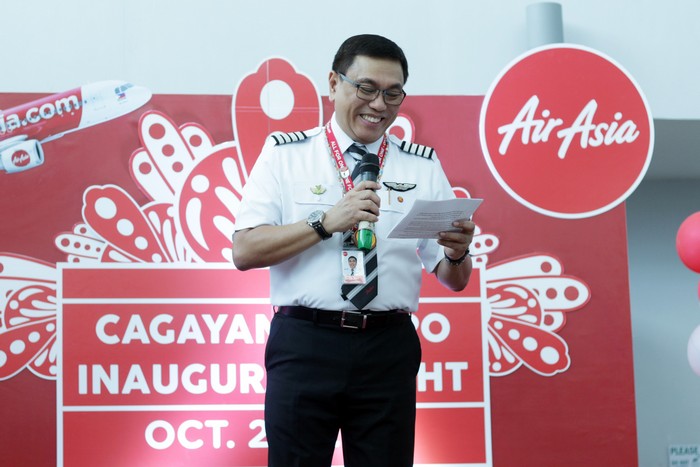 City Councilor Ian Nacaya and Misamis Oriental Board Member Nancy Madjos also gave brief speeches that focused on tourism and progress in Misamis Oriental.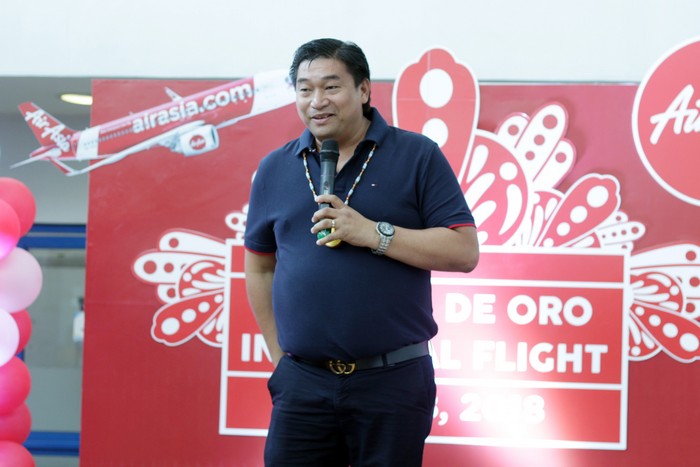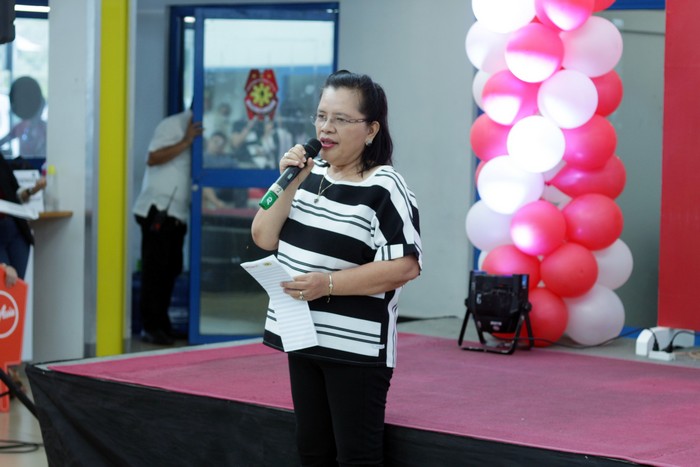 Route Reveal
The cabin crew held up "keys" which show the AirAsia routes to and from Laguindingan International Airport.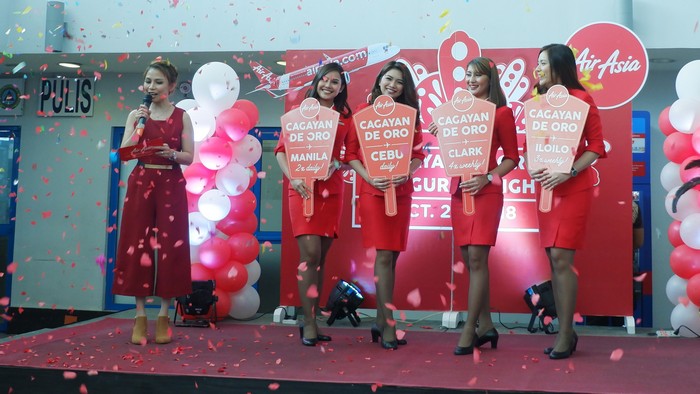 Cagayan de Oro – Iloilo route are available three times weekly, AirAsia's Cagayan de Oro – Manila route operates twice daily, Cagayan de Oro – Cebu route with flights daily while Cagayan de Oro – Clark at four times weekly.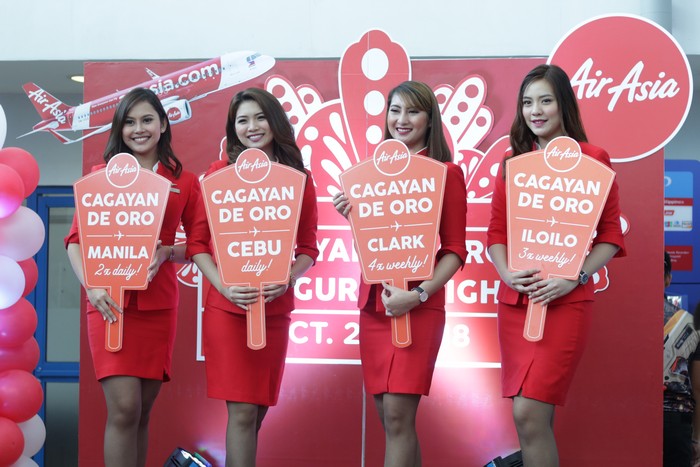 Cake-Slicing
To commemorate the event, the distinguished guests together with Captain Comendador proceeded with the cake-slicing ceremony. Tokens of Appreciation were then presented to the guests afterwards.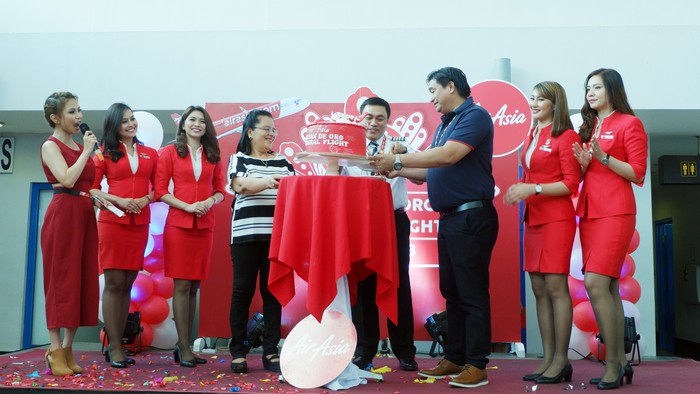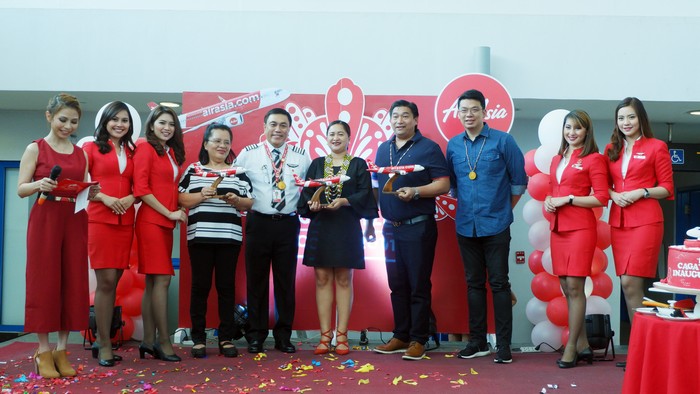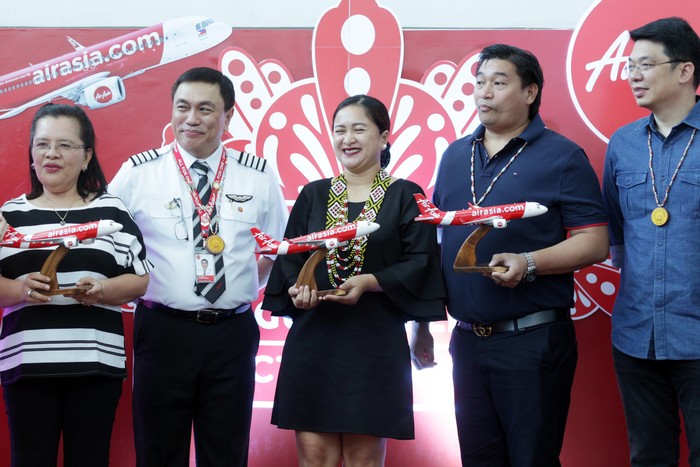 The event ended with a photo op with the distinguished guests and cabin crew.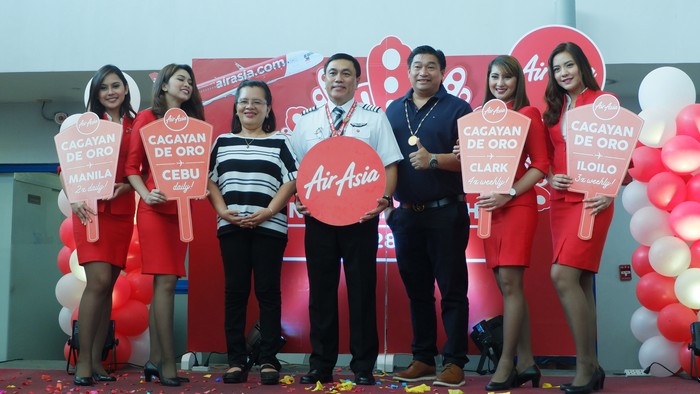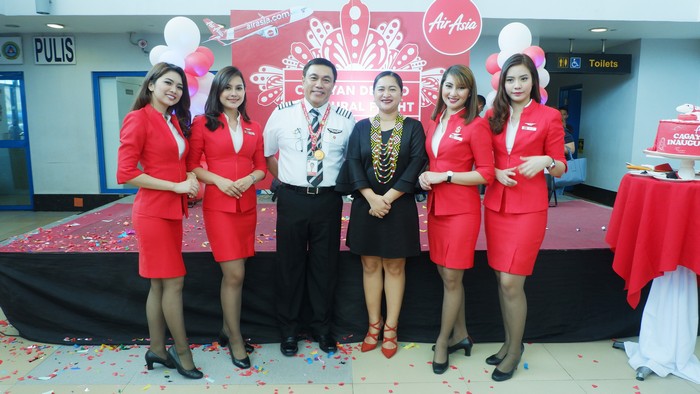 AirAsia offers several domestic and International flights from the airline's hub in Manila, Cebu, and Clark. Keep updated with AirAsia's latest promotion and activities via Twitter (@AirAsiaFilipino), Facebook (facebook.com/AirAsiaPH), and on Instagram (@AirAsiaFilipino).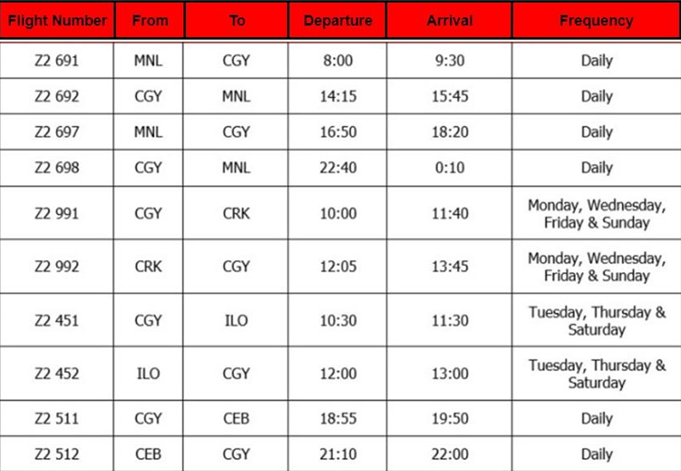 Promo fares from Cagayan de Oro to AirAsia's newest routes are also on sale from as low as P690 for BIG Loyalty Members and P757 for non-members now available for booking until November 11, 2018, at airasia.com for travel period starting October 29, 2018, to March 30. 2019.
About AirAsia Philippines:
AirAsia Philippines (AAP) is a wholly owned subsidiary of AirAsia Philippines Inc, a joint venture between Filipino investors Antonio O. Cojuangco, former Ambassador Alfredo M. Yao, Michael L. Romero, Marianne B. Hontiveros, and Malaysia's AirAsia Group Berhad. The airline started its commercial operations in 2012 in Clark, Pampanga and has since expanded to include hubs in Manila, Cebu, Clark, and Kalibo.
AirAsia currently operates a fleet of 21 aircraft with several flights to and from Manila, Cebu, Clark, Davao, Tacloban, Puerto Princesa, Iloilo, Tagbilaran (Bohol), Kalibo, Caticlan and Cagayan de Oro in the Philippines with international flights from Manila, Cebu, Davao, Clark and Kalibo to Kuala Lumpur, Kota Kinabalu, Hong Kong, Macau, Shanghai, Shenzhen, Guangzhou, Ho Chi Minh, Bali, Taipei, Kaohsiung*, Singapore, Seoul/Incheon, Pusan and Bangkok. *Manila – Kaohsiung will commence on October 30, 2018
About AirAsia Group:
AirAsia, the leading and largest low-cost carrier in Asia by passengers, services an extensive network of over 130 destinations. Since starting operations in 2001, AirAsia has carried more than 500 million guests and has grown its fleet from just two aircraft to over 200. The airline is proud to be a truly ASEAN (Association of Southeast Asian Nations) airline with operations based in Malaysia, Indonesia, Thailand, and the Philippines as well as India and Japan, servicing a network stretching across Asia, Australia and New Zealand and the Middle East. AirAsia has been named the World's Best Low-Cost Airline at the annual Skytrax World Airline Awards ten times in a row from 2009 to 2018. AirAsia was also awarded World's Leading Low-Cost Airline for the fifth consecutive year at the 2017 World Travel Awards, where it also beat a field of full-service carriers to become the first ever low-cost carrier to win World's Leading Inflight Service.